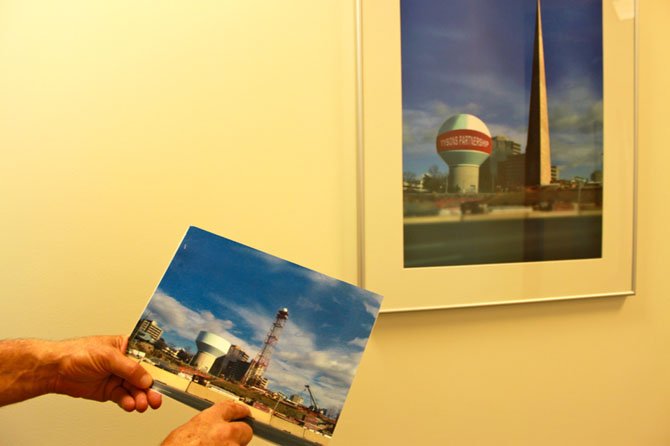 Michael Caplin is helping to turn Tysons Corner into a community.
Caplin, the executive director of Tysons Partnership, has a long list of ideas to create a new image for Tysons - many of which include events that will pull people back into the area on weekends.
"Tysons is an anomaly because people have lived here for 100, 200 years, but the modern Tysons is more of a work destination than a home destination," he said. "We have 100,000 people who work here during the day. Only 19,000 people stay here at night."
By creating the farmer's market - which started Sunday - and a long list of inaugural events the same year the McLean stop on the Silver Line is expected to open, he hopes people from Washington D.C. and all over Northern Virginia sees Tysons as a different place than it has been perceived. The Tysons that is a business park and nothing more. The Tysons that is difficult to get to on the beltway.
"You can ride your bike anywhere on Sundays," said Caplin, talking about how Tysons Corner turns into a ghost town on the weekends. "It looks like a Hollywood stage set, because no one is here."
THE POPULATION is expected to reach 100,000 in the next 35 years, and new construction will double the square footage that exists vertically to accommodate for them.
To get a head start, a new logo for Tysons Partnership was created and banners will be added to light poles throughout the urban center. Additionally, the water tower will be emblazoned with the name in the near future.
"We're spending a lot of time creating a sense of place," he said.
All of the festivals are going to be annual. More are expected to be added next year.
These events include:
May 31 to June 1 -- Great Tastes of Tysons from 1 to 6 p.m. The two day festival features tastes from restaurants throughout town, music and art. Lerner Town Square.
June 1 -- Tysons Farmer's Market grand opening from 10 a.m. to 2 p.m. and Fairfax County Police Bicycle Unit Bicycle Rodeo from 10 to 11 a.m. The Farmer's Market officially opens on May 18, but the celebratory kick-off is on the 1st. Nearly 20 vendors selling produce, bakery items and chocolate will set up their tents at Greensboro Drive and Westpark Drive. The Farmer's Market runs until Nov. 18.
June 29 -- Second Annual Tour de Tysons bicycle race. Nearly 300 cyclists will race downtown from 7:30 a.m. to 5:30 p.m. Food trucks selling crepes lend to the French ambiance. 1800 Tysons Blvd.
Sept. 13 -- Tysons world Music Festival. Local and national musicians will perform from noon to 10 p.m. All proceeds will go to Spirit of Hope Children's Foundation. Lerner Town Square.
Sept. 20 -- Tysons BBQ, Bourbon and Beer Festival. The cost of admission gets visitors a commemorative sample glass for all-you-can-drink craft beer and small-batch bourbon. There will be live music while the festival is running from noon to 6 p.m. Lerner Town Square.
Oct.16 to Nov. 1 -- Great Pumpkin Gathering. Artists will create a wall of intricately carved pumpkins for the display, which changes daily. Viewing times are 10 a.m. to 6 p.m.
Oct. 18--19 Tysons Harvest Festival. There will be craft vendors and beer and wine tastings for the adults and rides and special activities for children from noon to 6 p.m. Artists will have demonstrations while preparing for the daily Great Pumpkin Gathering display change. Lerner Town Square.
Additionally, The Meridian Group is creating a pop-up park at Greensboro Drive and Solutions Drive that is expected to open in mid-June.
"We are working hard to change to rhythm of life in Tysons, adding reasons to linger and visit with colleagues and neighbors," said Caplin. "It'll be an opportunity for people to see an event in their neighborhood and bump into each other."
THE OPENING OF THE SILVER LINE is expected to draw crowds from all over the D.C. metro area in time for the BBQ, Bourbon and Beer Festival. As more people come to the urban center for these events, he hopes they will apply for the plethora of jobs in the area or even find an apartment to live in downtown.
Lerner Enterprises is allowing Tysons Partnership to use their 10 acre lot for events all year long
National Automotive Dealership Association is donating their lot for 27 Sundays for the Farmer's Market.
"These businesses are doing more than they have to for the common good," said Caplin. "They're doing it anyway because it will make Tysons a better place."
NADA Executive Vice President Joseph Cowden said he jumped at the chance to have the company be involved when Caplin asked.
"NADA has been in the Tysons ecosystem for a long time," Cowden said. "We made a big investment back in the day when people probably laughed at us for it."
He and the company have seen the changes Tysons has gone through first hand.
"We just think Tysons has become a model community," he said. "As all these apartment units are being built and more and more people move in, we don't want people to think it's a cold office park where people go home at five."
For more information, visit http://tysonspartnership.org/