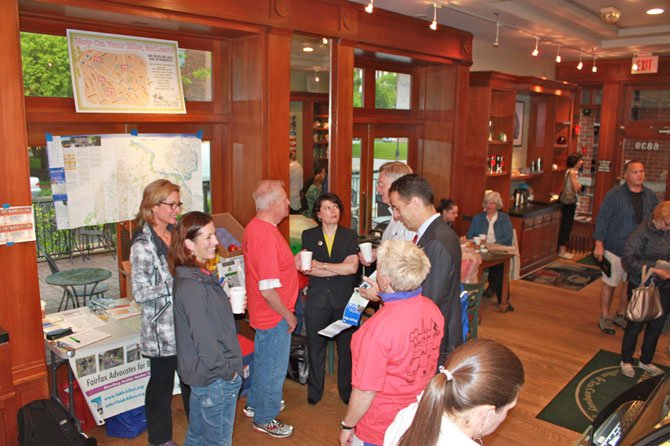 Bike to Work Day was a washout at many event locations this year.
With a flash flood warning in effect, new event pit stop at Greenberry's Coffee Co. saw less than 10 cyclists on Friday.
"I was very impressed with the hearty souls that came in with their rain suits on," said coffee shop owner Dan LeBerge.
His shop was prepared for dozens of bike enthusiasts to stop in that morning with mountains of bagels and bananas. It was not a difficult decision for him to add his business to the list of pit stops in the D.C. metro area -- 79 local businesses signed up to be pit stops for the event this year, according to www.biketoworkmetrodc.org.
"It's just an extension of being active in the community," he said. "We're a member of the community, so we look for opportunities like this."
Although two regular cyclists showed up during the last hour of the event, neither wanted to be interviewed.
Local officials state Sen. Barbara Favola (D-31), Dranesville Supervisor John Foust and Del. Marcus Simon (D-53) stopped by Greenberry's to show their support for the event.
"We've been involved with getting more bike-friendly options for a while now," said Simon. "We just want to give the people of McLean more options. I'm glad to be here to support this."
Simon said he helped improve bike lanes throughout McLean.
Bike advocate Dennis Frew was handing out some of the cloth bike maps for Tysons and McLean that he helped to create. His mission through Fairfax Advocates for Better Bicycling is to make the county more bike-friendly.
He said the county has become a lot better at sharing the road in the past year.
"We have somewhere between 25 to 50 miles of bike lanes," he said.
Representatives from Cypress Fitness gave a free membership to the first cyclist who showed up at Greenberry's that morning.
"We've had a few cyclists roll in, no pun intended," said Vice President of Marketing and Concierge Services Katherine Quinn. "I think if it was a sunny day, we would have seen more people."
Quinn said she supports anything that gets people more active. She said safety is a big reason many people do not cycle as their main form of transportation.
"This gives people whose main form of transportation isn't cycling [an opportunity] to try it out and see how easy it is," she said. "If someone is afraid to even get started, they're not going to know how easy it is."