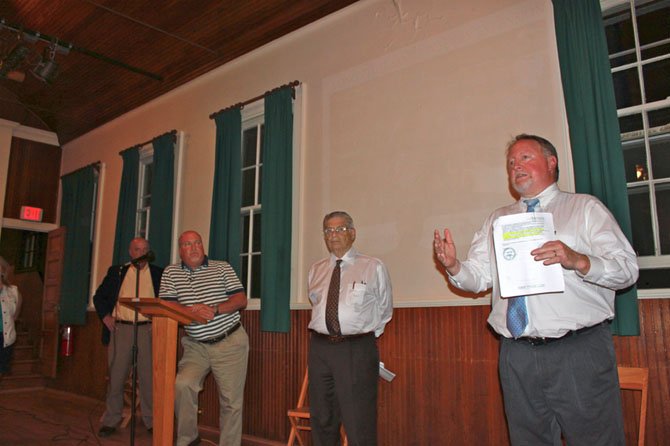 A costly gravity sewer may be the solution for a possible health hazard at Forestville Elementary.
After an investigation into replacing the existing septic field for routine updates, developers found that that field will not support the planned septic field - thanks to saturated soil.
"I want you to know that it wasn't our first choice and it wasn't our second choice," said Fairfax County Public Schools Coordinator of Capital Projects and Sustained Design Stephen Nicholson. "It will be major work."
He discussed the option at Great Falls Citizens Association's monthly meeting on May 13 at The Grange.
The updates are a part of a routine capital projects planned for the school.
Several sites around the Forestville Elementary were investigated for possible locations for a septic line. The gravity sewer that the state Department of Transportation, county Park Authority and the county health board is recommending will run from land owned by the Park Authority across Route 7 onto the school property. It will be the minimum possible size to prevent other sewer line connections. Nicholson said the option is an idea for now - not in any way final.
However, he and other project officials urged that the update is one the county should do soon. Nokesville Design representative Pam Pruett said plugs are holding the sewage in the 40-year-old pipes for now, but if those plugs pop up, raw sewage will flood the school. In that case, the school would have to close and students would have to go to another school for an undetermined amount of time.
"They are better to pursue it now than have a public health threat on our hands," she said.
Nicholson lightheartedly agreed.
"I have no intention of being on the 6 o'clock news," he said. "I don't look good on camera."
The other options that have been considered include putting a septic field in another location or "pump and haul." Nicholson said pump and haul is only feasible if the problem is short-term.
"This is the first septic field I've had to deal with, and I learned a lot about what's suitable," he said.
GFCA vice president Bill Canis was concerned that the right angles of the pipes in the gravity sewer line would create flooding issues in the future.
"That looks to me like a very awkward way to build a system," he said.
Nicholson said the sewer is required to have what is essentially a manhole every 500 feet to prevent water from bursting through a pipe and saturating the ground.
The gravity sewer idea will be discussed with other community groups in Great Falls before a proposal is made to the county Board of Supervisors at an undetermined date.