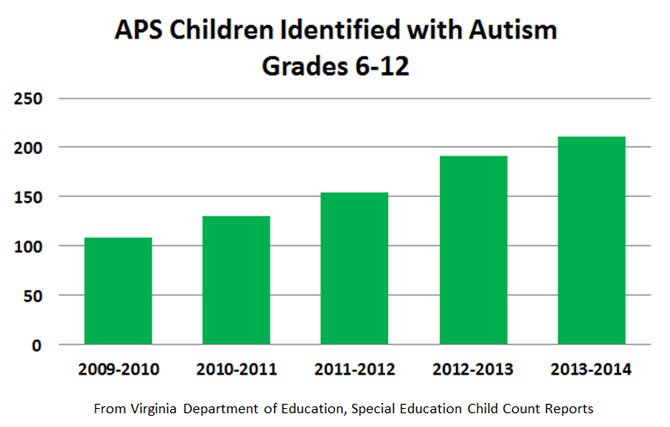 In 2009, Maria Zemankova's son was one of the first students to start in Arlington Public Schools' middle and high school autism program.
Zemankova was among the parents and school administrators who helped start the program, but now she's fighting to make sure that the program stays the way it was designed.
On Thursday, the Arlington School Board will vote on a proposed budget cut of about $271,000, that would eliminate close to half of the aide positions in the autism program, who students like Zemankova's son rely on everyday to get through school.
"He would be lost without the assistance," said Zemankova, whose son started the program in the 6th grade and has continued on through high school.
Each day, about 60 students spread out through four different Arlington middle and high schools in groups of 10, rely on a teacher and two specialized aides to remind them to write down assignments, focus in class and help them with social adjustments in a mainstream classroom — tasks that seem typical, but are seemingly impossible for students with autism to understand.
"As parents, we're mostly concerned about what happens when our children show up to school in September," said Gordon Whitman, a father of a 7th grader in the Thomas Jefferson Middle School's autism program.
Whitman began organizing parents of students in the autism program to speak up to the School Board since they found out about the potential cuts to the program — a move that he and other parents say was unexpected.
"It's been successful because of how it's been designed, and reducing the number of aides would undermine it," said Whitman.
Assistant Superintendent of Arlington Public Schools' Department of Student Services Brenda Wilks says that as the 2015 student enrollment is constantly changing, the number of students who need support will continue to fluctuate.
"As the number of students who need support changes, we will continue to staff according to our planning factors to provide support to students as needed," Wilks said in a statement.
When Superintendent Patrick Murphy presented his proposed budget in February, Wilks says that the enrollment of students with autism who needed assistance was low. But now, spring enrollments are projecting that the number has gone back up which means that fewer aides might could be eliminated.
But School Board member James Lander is concerned that if the number of APS students with autism increases between now and the start of the 2015 school year, that they will be unable to provide them with the support children with autism need.
"Every year we're getting more and more students diagnosed with, or identified with autism," said Lander. "And I think that cutting the planning factor now is not the direction we should go."
Since the county's middle and high school autism program started in 2009, the number of students who have been identified with autism from the 6th through 12th grades has more than doubled.
Landers says that Wilks has assured the board that the school will be able to deliver the necessary services to students with Autism even with less resources, but has heard from too many concerned parents like Gordon and Zemankova, that with less aides in the classroom, come September, they will have to play catch up for the rest of the school year.
"We want to ensure that we don't change the planning factor, so that then when we get an increase in students and some of them need assistance, that we can supply assistance to those students who need it," said Landers.
This month parents of students in the autism program have already led an autism awareness rally, have made recommendations to the School Board and have started a online petition to protest cuts to the program that has gained more than 1,000 signatures.
But despite their efforts, parents will not know if the program will continue on successfully as they have experienced until Thursday evening.
"We're hopeful that they will find a way to protect something that really works," said Whitman.