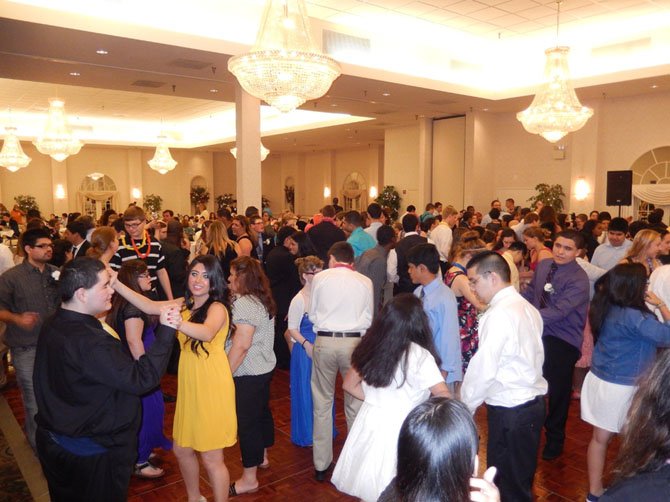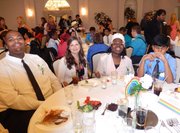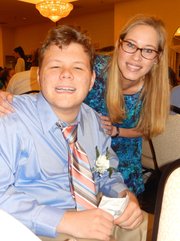 Centreville — Some 400 students got all dressed up and went to their prom at the Waterford in Fair Oaks on May 8. Once there, they had professional photos taken, ate pizza, sang karaoke, laughed and hung out with their friends. And when the music played their favorite songs, they filled the dance floor and showed off their coolest moves.
The only difference between this prom and others is that it happened during the daytime and the participants were special-ed students and their teachers. In fact, it was the 13th annual Day Prom, and students from 11 different schools attended.
"It's good because, not only do they get to socialize in an environment that's open and friendly, but they get to experience one of the rights of passage that all high-school students should experience," said Centreville High instructional assistant Kate Leimkuhler. "It's great to be able to relate to them, not necessarily as an authority figure, but just as a friend who cares. And it's really enjoyable watching them just cut loose and have a good time."
Sophomore Kevin Paredes was one of 15 Centreville students attending. "It's so great dancing and taking pictures on my phone," he said. "And the music is so awesome."
"We're friends and are in Best Buddies together," added classmate Zack Gilkey. "And I'm on the CVHS morning news; I tell people about recycling. I also do the weather on radio station WELD out of West Virginia."
As for the prom, he said, "I like the people and dancing with friends from Centreville High. It's fun because there are a lot of people here and it's good music. My favorite song is 'Happy' by Pharrell Williams."
"All you have to do is look around and see the smiles, and you can tell how much fun they're having," said special-ed teacher Vicki Hudson, head of Centreville's Best Buddies program which pairs general-ed and special-ed students for friendship and shared activities.
"We added more schools to the Day Prom this year," she said. "We couldn't bring as many general-ed kids, as usual, because of it. But it's great that so many schools want to do this. The staff here is really spectacular to work with, and the folks from LifeTouch are donating their time and services to take the photos. They'll put the pictures on a disc and Target will print them for us."
Westfield High special-ed teacher Joyce Hulse came with 11 students. "It gives them an opportunity to get out and experience what general-ed students do at a prom — the dancing, the fun and letting their hair down. They've been looking forward to this so much; they've been talking about it for weeks."
"I love coming out here with them," continued Hulse. "You get to see the students in a different light. It's not as structured, and the demands of a school aren't on them. It's also good to see them out in the community and see how they react to others."
Westfield freshman Andrew Harvin and senior Tsitsi Musiyiwa were among the prom-goers. "I like the food, especially the pepperoni pizza and the chocolate cake," said Harvin. "And I like listening to the rock music."
Musiyiwa also enjoyed the pizza and, she added, "I like being here and dancing with my teacher, Miss Judy [Villedrouin, an ESOL teacher]."