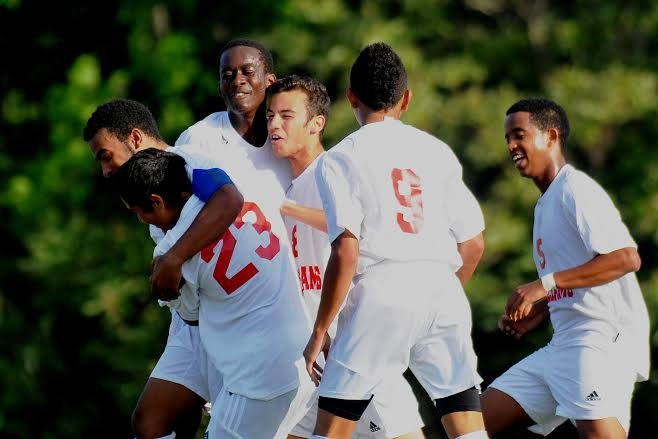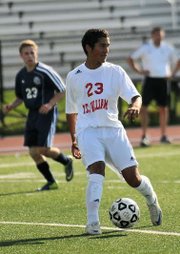 One year ago, Kevin Nunez was a spectator as the T.C. Williams boys' soccer team took on Mount Vernon in the Northern Region quarterfinals. A freshman at the time, support from the stands was all Nunez could offer the Titans as their season ended in a penalty-kick shootout against the eventual AAA state champion Majors.
Twelve months later, with T.C. Williams facing South County in Thursday's Conference 7 championship match, Nunez had an opportunity to assist the Titans down on the field. Now a sophomore, Nunez had traded his spot in the stands for a No. 23 jersey and would leave his mark on a piece of program history.
Nunez netted a pair of goals, including a momentum-swinging score in the 60th minute, and the Titans captured the conference title with a 3-2 victory over the Stallions at T.C. Williams High School. It was the Titans' second district/conference championship in three years and third title in seven seasons.
"It feels amazing to be a part of this team," Nunez said. "I just want to keep it going like this [and] have a successful season."
Nunez wasn't part of the 2013 TC squad. In fact, he didn't even try out. Nunez said he couldn't get his required physical examination done in time and he had too much going on in school. Nunez was, however, one of an estimated 180 students to try out for this year's team, and the sophomore midfielder made an impression.
"With Kevin, we were looking during tryouts and [wondered], 'Where did this guy come from? Oh, he just didn't try out last year,'" TC head coach Martin Nickley said. "What a great thing for him."
"With Kevin, we were looking during tryouts and [wondered], where did this guy come from? Oh, he just didn't try out last year."

--- T.C. Williams boys' soccer coach Martin Nickley
Nunez has also made an impression on his teammates.
"He's actually fit in really well," TC midfielder Eryk Williamson said. "All the time in practice he's talking, asking for us for little tips, what he can do to get the ball, what will work. Throughout the season we've worked with him. He's fit in really well."
Nunez's first goal during Thursday's match gave the Titans a 1-0 lead in the 27th minute. South County's Darwin Vasquez netted the equalizer in the 57th minute, but Nunez quickly answered, giving TC a 2-1 advantage three minutes later.
"We've been in that position before and we were able to keep our heads up and go back at them," TC junior midfielder Ramsey Benzina said. "We knew what we were capable of and we pushed the work rate even further past that goal and then grabbed another one."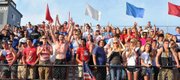 Williamson, a junior, scored what proved to be a valuable insurance goal in the 64th minute as the Stallions managed to score again with six minutes remaining. South County's Darren Roe served the ball in with a corner kick and Diego Bermudez finished with a header, cutting the TC lead to 3-2, but the Titans held on.
"It feels good," Williamson said. "It's always good to win the championship. We played hard and after all the hard work this season, it's good to finally get rewarded."
T.C. Williams finished the regular season with an 11-2 record and entered the conference tournament as the No. 1 seed, earning a first-round bye and an automatic regional berth. The Titans beat Annandale in a penalty-kick shootout, 1-1 (4-3), in the semifinals on Tuesday to advance to Thursday's championship match. South County, on the other hand, closed the regular season with a 2-9-2 record and entered the tournament as the last-place No. 7 seed. The Stallions knocked off West Springfield and West Potomac to earn a shot at the title.
"Hats off to South County," Nickley said. "What a thing for them to have been able to regroup in this sort of second season and really march into the finals. What a great job and I think they'll do well in regionals next week, as well. They played with a lot of heart. They didn't stop attacking and they kept believing."
Each team will host a first-round game in the 6A North region tournament on May 28.
"We got outworked a little bit," South County head coach Erich Gunderman said. "That's one of the things we try to do during the playoffs is outwork the other team. Early on in the first half, they outworked us. They're a good team. There's a reason they're the No. 1 seed."