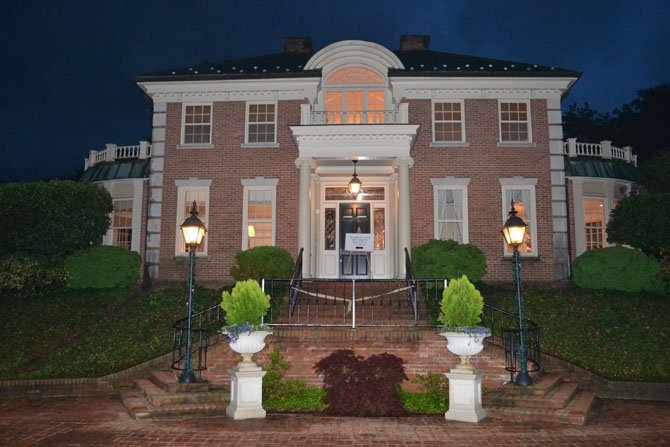 Rainstorms drenched Northern Virginia last Thursday night, but the stormy weather did not dampen the spirits of hundreds of local art patrons. In fact, the skies cleared just long enough for McLean Project for the Arts to celebrate with nearly three hundred supporters during its annual spring benefit at the historic Holly Hill estate in McLean.
The McLean Project for the Arts is a nonprofit art gallery and arts education center that has been a fixture in McLean for more than fifty years. It brings the works of mid-Atlantic artists to northern Virginia throughout the year, and offers art education classes to school children, adults, low and middle-income populations, and developmentally disabled adults.
Each year MPA invites hundreds of local artists, supporters, community members and local dignitaries to celebrate the arts in McLean. The event is a fundraiser for the organization, and one of their biggest events of the year. But in addition to raising funds for their many programs, the annual affair provides an opportunity for art lovers to gather and celebrate community.
"McLean Project for the Arts is one of the jewels of McLean, and one of the organizations that creates the sense of community that we have in McLean," said Fairfax County Supervisor, John Foust.
Eighty-eight year old Nancy Bradley is the only surviving founder of the MPA. The organization was started by a group of six women artists more than fifty years ago as the Emerson Gallery, and saw ten different homes before Bradley and others finally found them a permanent home at the McLean Community Center. "It means a lot to me to see all of this," she said.
Guests dined and socialized, enjoying the view at the recently renovated Hickory Hill. Award-winning USA Today sports columnist, Christine Brennan, addressed the group, and shared her admiration for the MPA. Brennan made history as the first female sportswriter for the Miami Herald in 1981, and she was the first woman to cover the Washington Redskins as a staff writer for the Washington Post. She shared with the audience her feelings about the Washington Redskins, which she now refers to as "Washington's NFL team."
"I avow not to use that name anymore," said Brennan, who referred to her time covering the Redskins as one of the highlights of her career. "It's not a cause, it's not for everyone. It's my own personal belief that it's not the right thing to do…and so my guess is that in the next five or ten years, we'll probably see that name changed."
McLean Community Center Board Chair, Chad Quinn, was in attendance, and spoke of the group's relationship with the MPA. "I think it is a wonderful example of a public/private partnership. We cherish our partnership with the MPA. And ultimately we think it's the type of environment that makes McLean special. That neighbors and friends can come together and celebrate the arts."