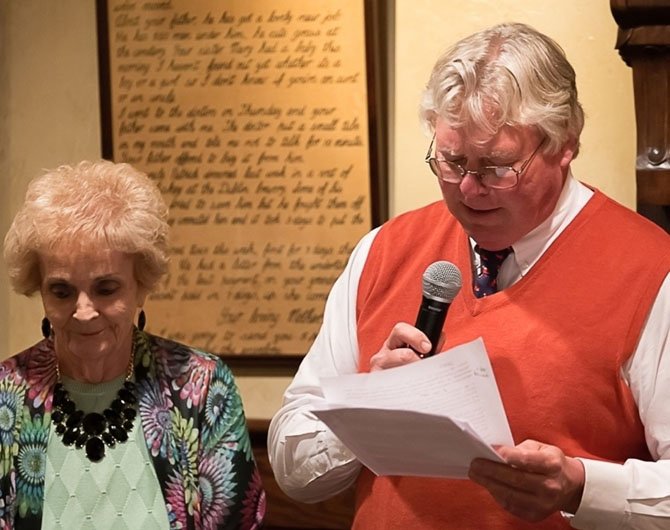 Carolyn Cornwell Miller is the recipient of the 2014 Jean Tibbetts History Award, presented at the Great Falls Historical Society's Annual Tibbetts Award Banquet and Annual Meeting on Wednesday, May 14 at The Old Brogue. Jean Tibbetts, wife of Roland Tibbetts, died in 2004. Jean was a former president of the Great Falls Historical Society, a historical researcher, and author of "This Land at Cornwell Farm." In her memory, the Great Falls Historical Society established this award, which is accompanied by a stipend of $200 from funds donated for this purpose.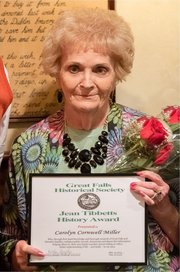 Carolyn has an advantage over other local area researchers in having lived in this area from her early days - knowing the subject matter intimately. Carolyn grew up in Great Falls, then Forestville. Her family included the Cornwells of Cornwell Farm, the Cornwell Sawmill and the Cornwell Greenhouse, all on Georgetown Pike, and her family even lived in the Old Schoolhouse next to the Grange for a number of years.
Carolyn attended the Forestville brick schoolhouse where the fire department is now located and was in the last seventh grade class before the school moved to Walker Road and the brick schoolhouse was torn down. She attended Herndon High School and was a member of the Great Falls United Methodist Church growing up.

Carolyn was also a member of the Junior Grange and a member and stockholder of the Great Falls Grange. She worked with her uncle Paul Cornwell of Cornwell's Greenhouse for 20 some years and, after it was sold, began a long career in real estate and mortgage financing.
HER FAMILY -- intermarried with many early Great Falls families, as was the custom at the turn of the century -- contributed to the community of their day. Her uncle, Henry Cornwell, for example, a tall red-haired schoolmaster, was the only schoolmaster of children from five to sixteen years old for at least 25 years in the Forestville community, making a huge impression on local character and values.
Carolyn has been a proud holder of their legacy and seems to be related in some way to just about every historic family in town. However, Carolyn has eagerly passed her family story forward.
Carolyn has made a substantial contribution to the archives of the Great Falls Historical Society.
Carolyn has contributed to historic photo archives and donated historic artifacts. Carolyn has contributed to the Colvin Run Historic District intern research team as a mentor. Carolyn participated in numerous oral histories to convey the stories of all she knows about the Cornwell family and relatives in Great Falls.
Carolyn presented an expansive history of the Cornwell Family of Great Falls at the GFHS Program on Historic Families of Georgetown Pike, and assisted others with the Gunnells, Van Pattens and the Jacksons. Beyond that, she has assisted the Oliver's the Walkers, and others in their local family and historic property research. Carolyn provided an expansive display of the Cornwell family at Great Falls Day 2013 and conducted exhaustive research on the Great Falls Grange that was presented at Great Falls Day 2014. The Cornwell family presentation has also been presented at the LiftMeUp Open House at Cornwell Farm this past spring.
Beyond GFHS, Carolyn has made noteworthy contributions to public online archives and has advanced the knowledge of people buried at local cemeteries.
Carolyn has shared her family story online at www.ancestry.com, uploading more than 2,000 historic photos onto the Cornwell file. Carolyn has assisted many users of www.ancestry.com in locating their relatives and has helped many people find their way in exploring their family tree – whether distant relatives or complete strangers.
CAROLYN, along with Ellen Walker of Walker Road, a cousin, scan local newspapers, and monitor obituaries posted at local funeral home websites on a weekly basis. Together, they upload the obituary to findagrave.com and Carolyn screens any available photos found in newspapers or the website postings and uploads them. Carolyn and Ellen found a concerning pattern that inspired them to take action: They found obituaries and death notices in the Washington Post that said that people were buried at Arnon Cemetery, however there were no tombstones to that effect. Carolyn and Ellen spent three days scanning all of records of Paul Turner and Marion Reid, former Trustees, to clarify the locations where specific individuals are located at Arnon Cemetery, contributing important information to their descendants, and the online community at www.findagrave.com and ancestry.com.
Carolyn's enthusiastic story-telling, exceptional and dogged research skills, and ability to dig in to get the facts correct plus her vivid memory of growing up in the Grange and in local schools in Great Falls, give Carolyn the ability to present the past with accuracy, presenting evidence of past connections for future generations to appreciate, and treasure. Carolyn has worked hard to bring a picture of life in Great Falls into sharp focus – important to all of us as a community in the process of continual change.
Since the first award in 2006, the Great Falls Historical Society has honored Milburn Sanders, Karen Washburn, Tanya Edwards Beauchamp, Naomi Whetzel, Bill Garrett, Connie and Mayo Stuntz, Marjorie Lundegard and Dave Bettwy. All of their names are inscribed on a plaque displayed in the Great Falls Library. Now, Carolyn Cornwell Miller's name has been added.