Jonathan Kinney of Bean, Kinney & Korman has been inducted into the Arlington Business Hall of Fame by the Arlington Chamber of Commerce.
Each year, the Arlington Chamber inducts outstanding business leaders into the Arlington Hall of Fame. The inductees are chosen for their extensive involvement in both the business community and the broader community.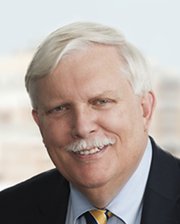 Kinney is a shareholder of Bean, Kinney & Korman practicing in the areas of land use and zoning, real estate, estate planning and wealth management. He is ranked as one of Washingtonian's Top Lawyers in Real Estate, listed in Best Lawyers in America and rated by Super Lawyers. He was the 2009 Affordable Housing Advocate Honoree by the Arlington Partnership for Affordable Housing. In 2012, he was named a Northern Virginian of the Year by Northern Virginia magazine for his work on affordable housing in Arlington.
He currently serves as a trustee of the Arlington County Retirement System. He is also on the board of directors for John Marshall Bank and the Clarendon Alliance.
Kinney represents regional and national developers, property owners and business owners, both non-profit and for profit, in all aspects of the land use and zoning process for their commercial, office, residential and mixed-use projects. In addition, he regularly represents clients on matters involving property transactions, land use and zoning issues.