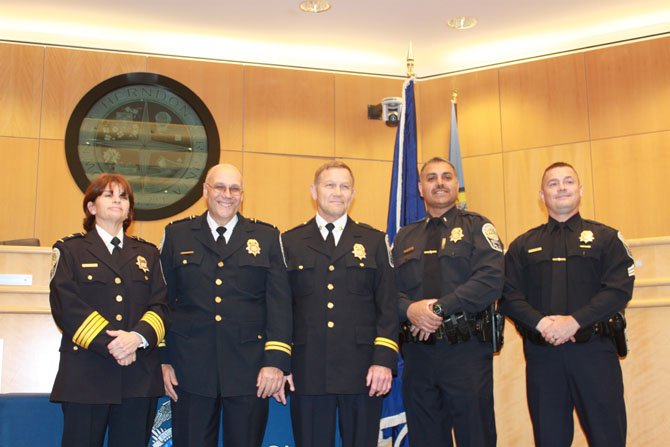 A short ceremony last week dedicated three town officers to their new positions as the highest-ranking officers at the Herndon Police Department.
A new Sergeant, Lieutenant and Captain were promoted during an intimate ceremony on May 21 at the Herndon Council Chambers.
"As we all know, cops like comfort," said HPD Chief Maggie DeBoard. "They like routine and they like control. One of the issues we always worry about routine is complacency. That is dangerous to an officer."
Before she awarded Sean Merritt a Sergeant badge, Si Ahmad a Lieutenant badge and Ron Thunman a Captain badge, she said the changes in their role at the police department will bring changes in expectation. With those changes, she noted, come personal and professional growth.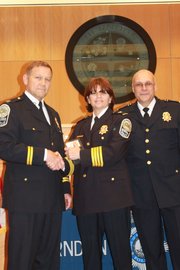 DeBoard thanked the families and friends - the wives, children, parents and colleagues that have stood by the side of the officers who have been promoted as well as the rest of the officers.
"Whether you realize it or not, you play a tremendous role in the lives of these officers every day," she said. "We know how if affects the officers that don't get that support."
The first to be awarded, Sergeant Merritt, received a Bachelor's degree in Criminal Justice from Radford University in 1998 and joined the police department in 1999, according to an introduction by HPD Public Information Officer Lieutenant Jim Moore.
Merritt was promoted to Corporal position in 2011 after about five years in the patrol section and about six in the traffic section.
"I feel excited," he said after the ceremony. "I'm supporting a new chapter in my career. I feel honored."
Lieutenant Ahmad joined the police department in 1995 and received a Bachelor's degree in Administration of Justice in 2002 and a Master's degree in Education in 2006 from George Mason University, according to Lieutenant Moore's introduction.
He served as a Youth Crimes Detective for two years before being promoted to Corporal in 2002. Between all the promotions leading to his position as Lieutenant, he has served as a narcotics detective for the Fairfax County Narcotics Unit, supervised a patrol squad on the midnight shift and was responsible for police department projects like the "Click it or Ticket" statewide initiative.
Multiple generations of his family came to the ceremony to support him and celebrate his promotion.
"It's overwhelming," he said. "I appreciate the opportunity from the chief and Herndon. I've been here for 19 years, but it feels like it was just yesterday. I'll be proud to serve our department."
Captain Ron Thunman is replacing recently retired Larry Presgrave. Thunman joined the department in 1981 and received a Bachelor's degree in Sociology in 1986 and a Master's degree in English in 2003 from George Mason University, according to Lieutenant Moore's introduction.
He has served as a member of the HPD Special Weapons and Tactics (SWAT) team, criminal investigation detective and Emergency Management Coordinator. He also is a FBI National Academy graduate and is a Northern Virginia Community College adjunct professor.
Thunman said it will be tough to replace Presgrave, who had served the department for more than 40 years.
"I'm very excited about working with the officers," he said. "I'll be on the support services side as the Commander."
An officer will be promoted to Corporal in the fall.