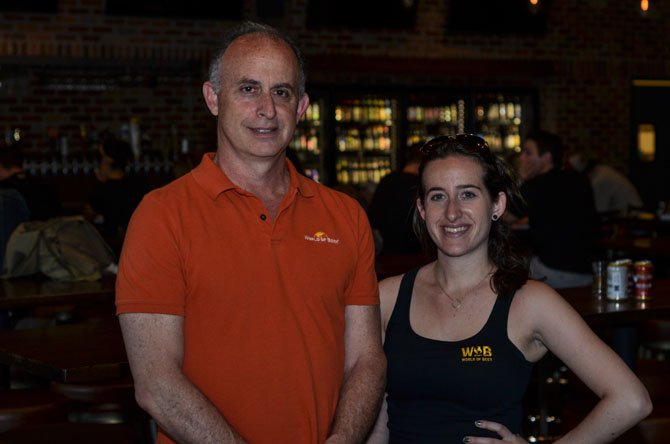 On Monday June 2, the World of Beer restaurant at 1888 Explorer St. in Reston Town Center will have its grand opening. "I saw there was a need for a World of Beer in the area," said owner Evan Metz. Metz also owns the World of Beer (WOB) located in Ballston, which opened the summer of 2012.
"It is a great area for our target audience to enjoy all the different craft beers and spirits we bring as well as our live entertainment," said Metz. Throughout this past winter and spring construction was underway at the 4,500-square-foot location at The Avant at Reston Town Center. The bar and restaurant, which signed a lease for the space this past July, has its ABC license. World of Beer is a Florida-based national franchise which opened a location in 2013 in Baltimore, Md.
In addition to 500 different beers that rotate through the menu, including 50 on tap, the restaurant will have a full menu. "The menu at Reston is expanded," said Metz. The food selections will include hamburgers, sirloin steak, steak frites, baked brie, and artisan sausage boards. "People were asking for these items, so we decided to make them available," said Metz. WOB will have drink specials nightly and happy hour Monday through Friday, as well as live music Thursdays through Saturdays. Large screen TVs will be visible for sporting events.
A SPECIAL FEATURE of the Reston WOB is the infusion tower. The infusion tower has the ability to take a beer and infuse a flavor such as coconut oil, cinnamon, strawberry, or chocolate into it. "The infusion tower was custom designed," said Metz. "Every Monday we will have something different coming out of this, a different beer and a different flavor we think will brew well with it."

"When World of Beers opens, it will be wild," said General Manager for the Reston location, Jeremy Sundheimer. A resident of Arlington, Sundheimer explained WOB has a loyalty program which can be used to achieve rewards including mugs and shirts. "When we open our focus will be on providing the best customer service to our guests," said Sundheimer. "I am a big fan of the Ohio beers," said Sundheimer. "I recommend the Great Lakes Lake Erie Monster."
The Reston World of Beer will be employing approximately 45 persons. Corey Hawkins is one of them. Hawkins has worked in the restaurant field for eight years, and appreciates sour beers. "I like the New Belgium Clutch, it is good with meats such as a steak or hamburger."
THE RESTON WOB is one of several ground-floor tenants in The Avant, Boston Properties' new luxury residential building across from Reston Town Square Park. The restaurant's Director of Operations is Heather Matz. "We are so happy about bringing a great selection of craft beer to this area," said Matz. On the food menu, Matz suggests the southwest burger. "It has jalapeno bacon, and is the best thing ever," said Matz. To learn more about WOB, visit worldofbeer.com.