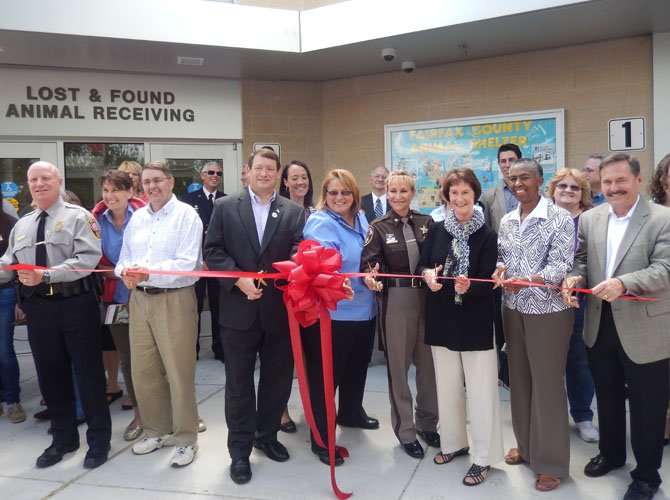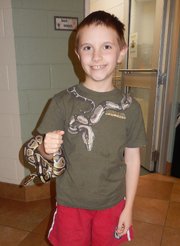 Residents, politicians and even four-footed alumni flocked to the Fairfax County Animal Shelter on Saturday, May 17, to celebrate completion of its renovation and expansion. It was a long time in coming, so it made the event even sweeter.
"We're making history today for the animal shelter, Animal Services division, police department and county," said shelter Director Tawny Hammond. "Fairfax is a national role model and leader, and it's a very exciting day."
"This is a reality because of leadership all the way from the top leaders in the county down to the boots-on-the-ground volunteers," continued Hammond. "The volunteers are the backbone and foundation of all we do here; they make everything possible."
Calling the shelter a "great place," county Board of Supervisors Chairman Sharon Bulova said animals provide families and contribute to people's quality of life. "This beautiful facility, wonderful staff and inspiring program signals Fairfax County's commitment to animal services."
"Thank you for your vision, hard work and dedication in making this a reality," she continued. She also noted that, in March, Hammond received a Metropolitan Washington Council of Governments leadership award, as did some others involved with this shelter.
Bulova then presented a resolution from the supervisors congratulating the shelter on its work. It also recognized that the shelter received the 2014 Compassion Award from the Virginia Federation of Humane Societies for its lifesaving efforts.
"In 2013, Fairfax County was the largest jurisdiction in the U.S. to have an animal-placement rate of 92 percent," said Bulova. "And the shelter took in more than 4,200 animals last year."
Supervisor Pat Herrity (R-Springfield) said it's "not just about the animals — it's about the volunteers, animal wardens and staff, too." He also acknowledged the efforts of county Planning Commission Chairman Pete Murphy "who was involved in this project early and worked hard to get the funding in the CIP [Capital Improvement Program]."
Herrity said the shelter was built in 1975 and upgraded in the 1980s, but couldn't keep pace with the county's explosive growth. And he noted that the latest, extensive renovation was completed "in four phases over three years without closing the shelter to the public or relocating its services."
Also celebrating Saturday afternoon was Supervisor Michael R. Frey (R-Sully), himself an animal aficionado. "I have a German Shepherd, a guinea pig and a chinchilla," he said. "This is such a joy to be here."
He said a National War Dogs monument, dedicated to military dogs, will be located at this shelter. Frey also said the marker in the dog-walking area — previously dedicated to the late Susan Hall — "a veterinarian who gave an incredible amount of time to the shelter and worked hard to get the animal runs here" — would be rededicated.
Then, to everyone who supports the shelter, he said, "Thank you for all that you've done. Our county understands the importance of companion animals in our lives."
Deputy County Executive (and former county Police Chief) Dave Rohrer recalled when Animal Control and the animal shelter came under the Police Department's control. And he remembered how former Shelter Director Karen Diviney kept telling him about the shelter's cramped conditions and need for expansion.
"We've changed so much in terms of a community philosophy of what we want to do to protect and better the welfare of the animals," said Rohrer. He also noted that Deputy County Executive Rob Stalzer was an animal-shelter "champion behind the scenes," as are Friends of the Fairfax County Animal Shelter President Evelyn Grieve and Animal Services.
"Dr. Diviney helped drive so much of the change and was truly an advocate for the shelter," continued Rohrer. "And I'm confident in the leadership we have today."
County Police Chief Ed Roessler Jr. also praised Diviney's vision. "On her last day of work before she retired, we completed the first new wing of the shelter, and now she's here for the reopening," he said. "The training room was her idea, and it shall bear the name, 'The Dr. Karen P. Diviney Training Room.'"
Taking the podium, Diviney said, "I'm humbled and honored. This shelter stands as a symbol and a testament to the will of a community to end the needless euthanasia of homeless animals." She, too, thanked all those who'd made the shelter renewal possible. And, she added, "I'm in awe of the wonderful achievements happening here every day on behalf of animals, and I'll be forever grateful to have had a part in it."