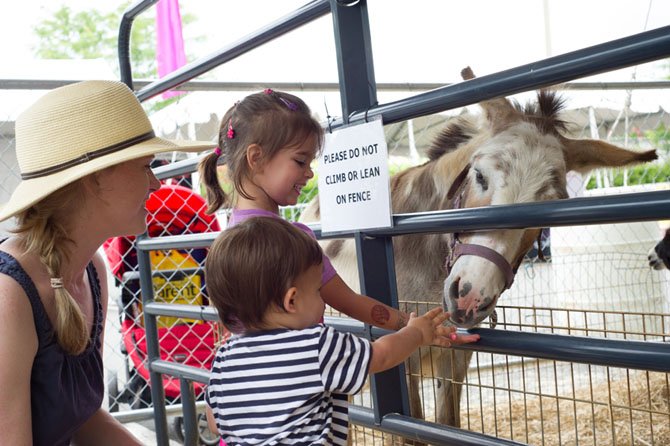 Northern Virginia's largest community-wide event, the 33rd annual Celebrate Fairfax! Festival, is set to take place June 6-8, 2014 on the grounds of the Fairfax County Government Center at 12000 Government Center Parkway, Fairfax. The Celebrate Fairfax! Festival features 25 acres of amazing concerts, family programs, green living, thrilling carnival rides and nightly fireworks. Among the festival's highlights are the more than 120 concerts and performances on eight stages, with an exceptional line-up of national, regional and local artists. Included are three fantastic headlining performances.
2014 Headline Entertainment Schedule for the Bud Light Main Stage:
*Friday, June 6, at 8 p.m. -- THE ALL-AMERICAN REJECTS
Starting out in 2003 with their self-titled platinum debut, followed by a double platinum release of Move Along in 2005 including singles "Move Along," "Dirty Little Secrets," and "It Ends Tonight," The All-American Rejects continued to soar the charts with their third album When the World Comes Down in 2008. Their single "Gives You Hell" became their first international hit, the No. 1 most-played song of 2009, spending four weeks at No. 1 at Top 40 radio, and sold four million copies in the U.S. alone. After a short time of musical and personal growth, The All-American Rejects released their fourth album Kids in the Street (2012). This synth-driven album incorporates horns and different instrumentation than the band has used in the past while still boasting their trademark earworm melodies, bright harmonies, and potent rhythmic energy. Lead singer Tyson Ritter said, "… if you were a Rejects fan and maybe have disconnected with us along our journey, Kids in the Street will be the album that reels you back in. And if you've stuck around, then thanks for growing up with us. Because that's what we've been doing for the last ten years – growing up. Audibly."
*Saturday, June 7, at 8 p.m. -- CHEAP TRICK
With timeless classics such as "I Want You to Want Me," "Surrender," and "The Flame," Cheap Trick is a musical institution. Since the 70's they've been blending elements of pop, punk and even metal in a way that is instantly catchy and recognizable. Having performed more than 5,000 shows, with 20 million records sold, 29 movie soundtracks, and 40 gold and platinum recording awards, Cheap Trick was honored in October 2007 by the Chicago Chapter of the National Academy of Recording Arts & Sciences for their contributions to the music industry. Their most current release, The Latest, has garnered glowing reviews worldwide and continues Cheap Trick's reign as power-pop progenitors as they continue their legacy of over 35 years in the music industry.
*Sunday, June 8, at 4:30 p.m. -- THE HUNTS
The Hunts are an indie-folk band from the southlands of Chesapeake, Virginia. These seven brothers and sisters bring to the stage an amazing chemistry and powerful presence meticulously driven by violin, acoustic and electric guitar, banjo, mandolin, accordion, ukulele, piano, and rounded out with crisp harmonies. The Hunts have completed 7 U.S. tours, including performances in 42 states, and traveled worldwide for over 10 years. In November 2012, they released their newest album We Were Young, featuring 10 original songs. The album's first track, "Make This Leap," started receiving airplay from key market radio stations almost immediately after the album's release and was picked up by Milk-Bone for a national commercial in May of 2013. The Hunts recently signed a 6-album deal with Cherrytree Records, a label under the umbrella of Interscope Records.
In addition to the outstanding entertainment schedule, there are plenty of enhancements to the already extensive festival programming at Celebrate Fairfax!, including areas such as Greenology, the Fairfax County Karaoke Championship, the Fairfax is Beautiful Photo Contest, the Craft Beer Garden & Silent Disco, the Fairfax County DockDogs Competition, Emerging Artist Showcase featuring three talented local artists, plus more than 40 carnival rides and attractions, and over 30 food and drink vendors with enough variety to please anyone.
General admission seating is available for all performances; shows are free with daily tickets to the event. Advance tickets are on sale starting May 1 at all Northern Virginia Wegmans locations, and online www.celebratefairfax.com.
The 33rd annual Celebrate Fairfax! Festival is a presentation of Celebrate Fairfax, Inc. and will be held Friday, June 6 through Sunday, June 8, 2014 at the Fairfax County Government Center,12000 Government Center Parkway, Fairfax, VA 22035. Celebrate Fairfax, Inc. is a nonprofit, 501(c) 3 organization commissioned in 1982 by the Fairfax County Board of Supervisors. Its mission, "The Celebration of Fairfax County and Its Communities," is met through the production of the Celebrate Fairfax! Festival, Fall for Fairfax KidsFest, and educational programs such as Events101. For more information call (703) 324-3247 or visit the website at www.celebratefairfax.com.