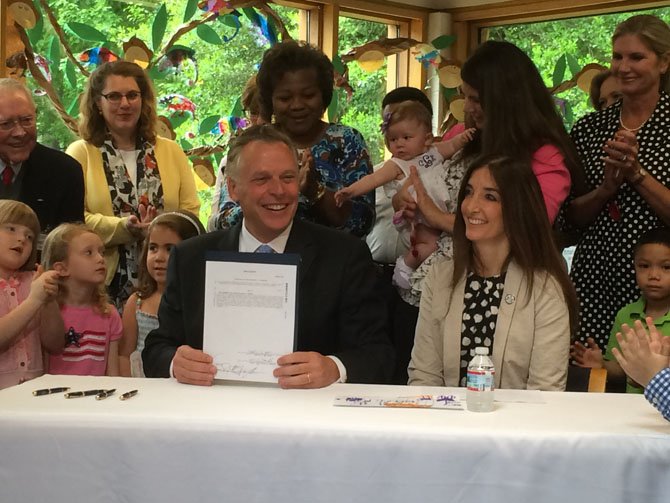 Elly Lafkin's baby, Cami, died tragically two years ago in a home daycare center in Harrisonburg, Va. She and her family experienced firsthand the need for expanded legislation regarding Virginia's current background check process for childcare providers.
Last week, at Kiddie Country in Burke, Elly joined Del. Eileen Filler-Corn (D-41) and Governor Terry McAuliffe for a ceremonial bill signing of new legislation inspired by the death of her infant baby, Cami.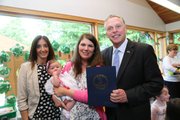 Current Virginia law requires a background check for anyone responsible for caring for six or more unrelated children. Unfortunately, however, such background searches do not include a fingerprint check run through the Central Criminal Records Exchange and the Federal Bureau of Investigation (FBI), which access national databases of crimes committed in other states and the use aliases. Elly left the care of her newborn baby in the hands of woman who passed a background check, however a fingerprint check would have caught her five aliases and felony record.
"Let's be clear, Camden's death was preventable, if Elly had known about this woman's criminal record, of course she would never have trusted her to take care of her child," said Governor McAuliffe.
The new legislation signed by the Governor on Wednesday directs a work group to review current state and federal laws and regulations with regard to criminal history background checks for child care providers and to make recommendations to implement a fingerprint check screening system.
This legislation, spearheaded by delegates Filler-Corn and Rich Anderson and state senator Emmett Hanger passed the General Assembly unanimously and calls for a report to the Governor by Nov. 1.
"As a mother of two, knowing how important it was for me to have someone trustworthy, qualified and responsible caring for my kids when they were young, I knew something had to be done. I am proud of this first step. The safety and care of children across the Commonwealth has always been among my highest priorities," said Del. Filler-Corn.
Virginia's neighbors, North Carolina, Tennessee, West Virginia, Maryland, and Washington, D.C. already require a fingerprint check for child care providers. Governor McAuliffe expressed his zero-tolerance attitude toward those who put children in danger and demanded a thorough report that can lead to expanded legislation in next year's General Assembly Session.