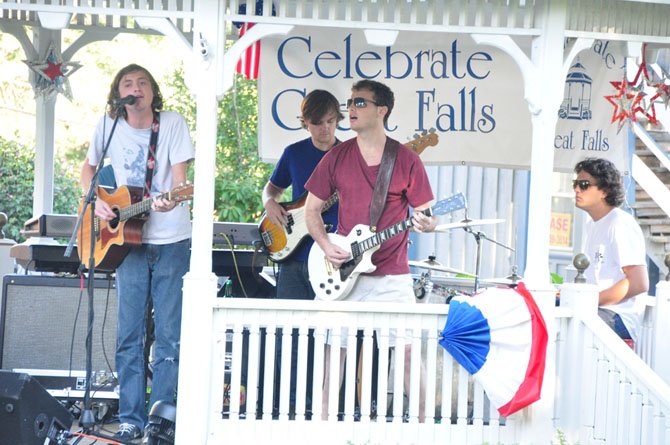 Events throughout the summer will keep kids and adults alike from complaining of boredom this year.
Celebrate Great Falls Foundation's popular annual events include weekly outdoor concerts, an old fashioned baseball game, golfing for charity and an all-day Independence Day celebration.
Best of all, all of the events are free of charge.
The outdoor summer concert series is every Sunday from June 1 to Aug. 17 on the Great Falls Village Green. Most of the shows run from 6 to 8 p.m.
"Bring a picnic and refreshments, and enjoy the Village Green at its finest," said CGF board member Michael Kearney.
That sums up the reason why CGF Director Erin Lobato likes the event.
"What's really lovely is families and couples come and set up lawn chairs and coolers," she said. "Some people bring dinner. It's just a good community event."
Many of the bands are local to the area. Others, like The Dusty 45s, travel as far as Oregon to play in town.
"The concerts themselves have probably been going on for 20 years," said Kearney. "Celebrate Great Falls actually took over the management of the concerts three years ago."
Another weekly event is one that is not just bound to summer. Katie's Cars and Coffee is every Sunday from 7 to 9 a.m. for car enthusiasts. Vintage cars, sports cars and project vehicles can be spotted every week in The Old Brogue's parking lot.
"It's for people that love cars," said Lobato.
The annual alumni versus Langley High Varsity baseball game on Saturday, May 31, starts at 2:30 p.m. at the Nike Field Five.
"It's very old-fashioned," said Lobato. "My understanding is that the tradition goes back to the 1930s."
Snacks and music will be plentiful during the game.
"It's just a good, old-fashioned small town event," she said. "It's not a huge event. It's a way to keep the kids connected to the community that graduated from their school."
The charity golf tournament on June 2 will raise money for Colvin Run Elementary, Great Falls Elementary and Forestville Elementary.
The tournament is split between morning and afternoon shotgun rounds at Hidden Creek Country Club, Reston. The finalists will play each other in the afternoon before awards and a reception.
This year, money raised will fund an online math program for Forestville, an abundance of library books for Great Falls and updated iPads and laptops for Colvin Run.
"250 families participate now," said CGF golf tournament Chairman Tim Burke in a previous interview. "We raised about $20,000 last year."
Spaces are still open for those who want to compete. CGF is also looking for about 40 volunteers to help out over the course of the day.
More information about the event can be found at http://www.GreatFallsGolf.org.
The big news that many locals still don't know about, said Kearney, is that there will be no local fireworks at this year's Independence Day celebration.
"Half of the town doesn't really realize it," he said. "No one has a clue. They're all going to show up and there will be no fireworks."
He said that other than a rained out event recently, he cannot remember when an in-town organization did not host the fireworks show.
"The organizing group, due to health issue, due to a lack of volunteers, can't do it," he said.
As will previous years, the day will start at 8 a.m. with the Great Falls Freedom Memorial 5k run/walk. The Little Patriot Parade will commence at 9 a.m. and the main parade will begin at 10 a.m. at the village center. Refreshments and music will also be available.
Summer Concerts on the Green Schedule
June 1
Mike Terpak & Blues Explosion sponsored by Roz Drayer, TTR Sotheby's International Realty
Experience Mike Terpak and the sounds of Blues Explosion
June 8
Pop Rock by SRO & Emma Bailey sponsored by Loebig Chiropractic & Rehabilitation
Soothing Emma Bailey country with the Standing Room Only Rock Band
June 15
Daryl Davis sponsored by John Nugent & Sons
Multi-talented Daryl Davis performing his signature jazz and blues.
June 22
Four Star Combo sponsored by Keller Williams ®Realty, Great Falls/McLean
A heapin' helpin' of red-hot 1950's Rockabilly!
June 29
The Dusty 45s sponsored by The Old Brogue and Katie's Coffee House
Rockin', high-energy music at just the right throttle to keep fans on their feet, begging for more
July 6
Diamond Alley sponsored by Dr. Donna Greco, Great Falls Family & Cosmetic Dentistry
A diverse mix of contemporary and classic hits highlighting their unusual vocal talent.
July 13
The remedy sponsored by Bic DeCaro, Westgate Realty Group, Inc.
From Duran Duran to Van Halen to the Rolling Stones... rock at its best
July 20
Ruthie & The Wranglers sponsored by Great Falls Auto Service
High energy Americana country with brilliant songwriting and vibrant harmonies
July 27
The Morrison Brothers sponsored by AOG Wealth Management
The premier country/rock act in the Washington D.C. area, soon to be a national contender.
Aug. 3
Atlas Road Crew sponsored by Glynis Canto & Kevin Canto, Realtors
A band that puncuates its rock vibe with Southern gentleman swagger.
Aug. 10
Tom Principato sponsored by Capital One Bank, Great Falls Guitarist combining rich blues with high energy rock.
Aug. 17
High Five Worldwide sponsored by The Simmons Team, George Mason Mortgage
Fusing high energy modern pop with yesterday's hits, High Five Worldwide combines four of the region's finest talents into one dynamic package.
*All events as stated by a Celebrate Great Falls Foundation press release