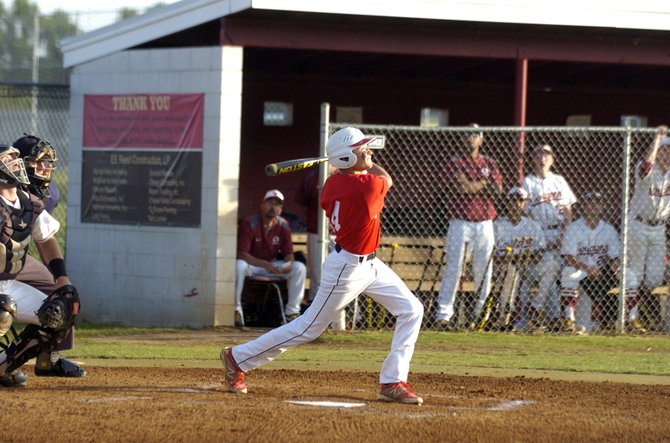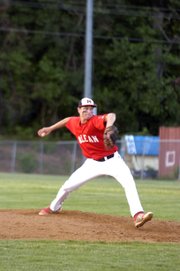 McLean pitcher Joey Sullivan's senior season has had its bright spots, including a perfect game against rival Langley, and a three-hit shutout against South Lakes in the Conference 6 tournament quarterfinals.
As the Highlanders entered the region tournament, however, Sullivan felt he had something to prove. His overall body of work wasn't to his liking and No. 5 wanted to affirm his status as one of the top pitchers in the region.
The stage was set Friday night for Sullivan to show what he had, and the Virginia Tech signee didn't disappoint.
Facing Conference 5 champion Oakton, Sullivan delivered what he called the "best" performance of his high school career, throwing a one-hit shutout as the Highlanders defeated the Cougars 1-0 in the opening round of the 6A North region tournament at Oakton High School. McLean (13-10), the No. 4 seed from Conference 6, will travel to face Battlefield, the No. 2 seed from Conference 8, in the quarterfinals at 7 p.m. on Monday.
"For me, this isn't the senior season that I've imagined," Sullivan said. "… I've been pretty disappointed with my play and the [team's performance]. … For me, today, I wanted to show people that I deserve to go to Virginia Tech, and I deserve to be [considered] an elite pitcher in the region and go out there every day and have teams fear me. I don't think I've had my best stuff this season and I don't think I've proved the type of player that I really am.
"… This was a statement game for me. I wanted to prove myself, again, to the region that I think I'm as good as it gets out there and that I give my team a good chance to win."
"This was a statement game for me. I wanted to prove myself, again, to the region that I think I'm as good as it gets out there and that I give my team a good chance to win."

--- McLean senior pitcher Joey Sullivan
Sullivan threw 106 pitches, including 70 for strikes. He walked two, hit one batter and struck out eight. A two-out, fourth-inning single by Oakton first baseman Dale Good was the only hit Sullivan surrendered.
The McLean right-hander did not allow an Oakton runner to reach third base.
"Joey pitched his tail off," McLean head coach John Dowling said. "It's the same story we've had all season: We know we're going to pitch, we know we're going to play defense, and if we can scrape a couple across, I like our chances every night out."
The Highlanders managed just one run Friday night, but it was plenty for Sullivan. With two outs in the top of the fifth inning, sophomore shortstop Conor Grammes delivered an RBI single, scoring left fielder Matthew Bielamowicz, who doubled with one out.
"I hit the first pitch that came to me, and I was definitely looking fastball middle-in because that's what I had gotten a hit on [during] my [previous] at-bat," Grammes said. "It was right there and I just turned on it and hit it through the third-base gap.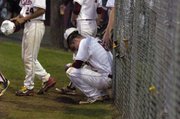 "I was very confident [at that point]. I knew that if we could get one, then I thought we'd be in good shape. I knew … that Joey's an incredible pitcher and that if we could score one, that would definitely be enough."
Grammes, hitting second in the McLean batting order, finished 2-for-3.
"Conor has hit at the top of our order the entire season; he's been one or two," Dowling said. "… As a sophomore, he's maturing into a really, really talented ball player. Guys look at him, he's not the biggest guy, he's not the quickest guy, but at the plate, he does not get fooled. He barrels up everything he sees."
Oakton starting pitcher R.J. Gaines kept the Cougars in the game, but ended up suffering the tough-luck loss. The senior right-hander allowed six hits and one earned run in six innings. He walked two and struck out one. Gaines stranded two runners in scoring position in the second inning and left the bases loaded in the sixth, but the two-out RBI single he surrendered to Grammes proved to be the difference.
"We had one inning that just got away from us," Gaines said. "I left one over the middle and they found a hole and they found a way and that's all it took."
Oakton ended its season with a 14-8 record, including a second consecutive Conference 5/Concorde District championship.
"I couldn't be more proud of these guys," Oakton head coach Justin Janis said. "… One of the coaches brought it up: We started the season 5-6 and we ended up 14-8, so I think that says a lot about the character of our players."