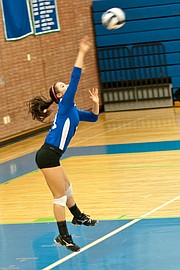 After winning the program's first division title in 27 years, the 2013 Churchill volleyball team advanced all the way to the 4A West region final, where the Bulldogs fell short against rival Wootton.
One year later, Churchill, winner of back-to-back division championships, started its 2014 postseason with a sweep of Whitman on Monday night.
Afterward, head coach Cindy Hillard didn't dance around the Bulldogs' intentions.
"We're going to states," Hillard said.
Churchill, the top seed in Section I of the 4A West region, defeated Whitman 3-0 (25-15, 25-23, 25-19) in the sectional semifinals on Nov. 3 at Churchill High School. The Bulldogs will need two more wins, including their sectional final match against Richard Montgomery at 6 p.m. tonight, to reach their goal. At this point, however, the Bulldogs (14-1) are convinced they have the athletes and the mindset to get there.
"Last [year] against Wootton, we really got in our heads," Churchill senior Sara Chang said. "Mental toughness is probably the biggest part of volleyball at this point for us. We have all the tools, but the tools are useless unless we have it all together in our heads."
Chang, a setter and opposite hitter, led Churchill with seven kills against Whitman. The Oberlin College commit also had six blocks and four aces.
"She is phenomenal," Hillard said of Chang, a four-year varsity athlete who will play setter at the college level. "She is fantastic."
Another of Churchill's weapons is outside hitter Epiphany Charles, who leads the Bulldogs in kills despite standing just 5 feet 5. Charles finished with six kills against Whitman.
"She's just a ball of fire," Hillard said. "... At 5-5, she should not be able to do what she does. She's 5-5 and she hits like she's 6-1."
Churchill outside hitter Jasmine Soriano finished with six kills and seven digs against Whitman. Middle blocker TingTing Sun had five kills and three blocks, and Abby Kash had five blocks.
Chang said being the top seed in Section I gives the Bulldogs confidence.
"We're the team to beat and you have to prove yourself if you want to beat us," she said. "We're not just going to give it to you."
If Churchill defeats Richard Montgomery (the Bulldogs beat the Rockets 3-0 during the regular season), they will face the winner of Gaithersburg, the No. 1 seed in Section II, and Northwest in the region final on Friday or Saturday.
Jessica McManus led Whitman with seven kills and Claire Nagelhout had six. McManus and Nagelhout each had four aces.