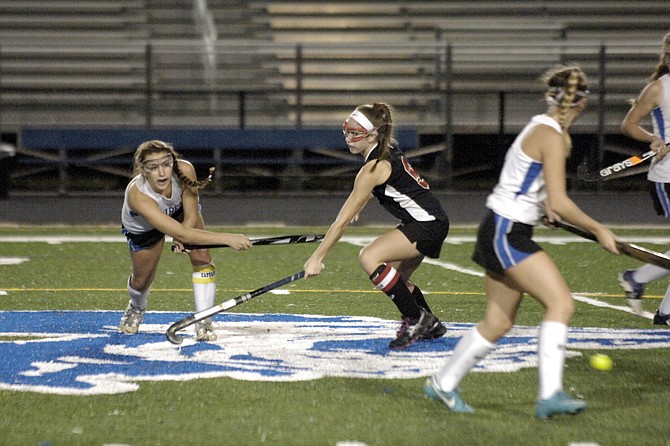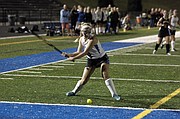 When Herndon's Jamie Wright tied the score with a goal in the second half of Tuesday's regional semifinal field hockey game, Fairfax forward Charlotte Duke recalled a memory from last season, when the Rebels squandered a lead against Westfield in the region final and lost in overtime.
"I knew," Duke said, "that we had to step it up …"
While Duke had a flashback, Fairfax captain Meg Robertson's mood soured.
"I was mad," Robertson said. "They scored and I was like, I want this back. We're not tying this game, we're not losing it."
Luckily for the Fairfax senior duo, neither had to suffer through unpleasantness for very long.
Twenty-two seconds after Wright's goal tied the score at 1-all, Robertson put the ball in the back of the cage, scoring what proved to be the game-winning goal and the Rebels knocked off Herndon 2-1 on Nov. 4 at Fairfax High School. The Rebels earned a trip to the 6A North region final for the second year in a row and secured a state berth.
"We wanted this," Robertson said. "Once they scored, we were like, this isn't happening. We're coming back."
Fairfax will host Chantilly in the region championship game at 7 p.m. on Thursday, Nov. 6.
The Rebels and Hornets were locked in a scoreless tie until the final minute of the opening half, when Fairfax senior Olivia Cummings scored with an assist from Emily Deivert with 19 seconds remaining until halftime.
Clinging to a 1-0 lead in the second half, Fairfax surrendered the tying goal to Wright during a penalty corner with 20:31 remaining. Moments later, Robertson scored the game-winner.
"I think they felt that we deserved to win and we deserved to be here," Fairfax head coach Amber Beaudoin said about the Rebels. "Meg really is the emotional heart of our team and it was fitting that it was her [that scored the game-winner]."
Other than Wright's goal, Fairfax shut down a Herndon team with offensive standouts Sofia Palacios, a Penn commit, Taylor Stone, a Louisville commit, and Sammy Stone, a sophomore. Five days earlier, the Hornets scored eight goals during a regional quarterfinal victory over South County.
"What we've been preaching pretty much all year is it takes a team to win a regional crown, it's not about individual players," Beaudoin said. "They have several very good players, but I felt like the advantage for Fairfax was that we have 11 players."
Fairfax improved to 19-3 and will take on a Chantilly team the Rebels have yet to face this season. The Chargers (14-3) lost to Herndon in the Conference 5 tournament semifinals, but bounced back with three straight shutouts in the regional tournament, including a 1-0 win over defending state champion Westfield in Tuesday's other region semifinal.
"It feels great. It feels like we can get our redemption from last year," Duke said. "Chantilly won their game, so Westfield's out. It's ours.

"If we put our minds to it and we play like we have in the Westfield game (Fairfax won 1-0 on Oct. 6) and in this game, then we can do anything."
Meanwhile, Herndon finished with a 19-3 record. The Hornets won the program's first Conference 5/district title since 1979, but ended its season with a loss to Fairfax in the region semifinals for the second year in a row.
"We put everything out on that field," Taylor Stone said.