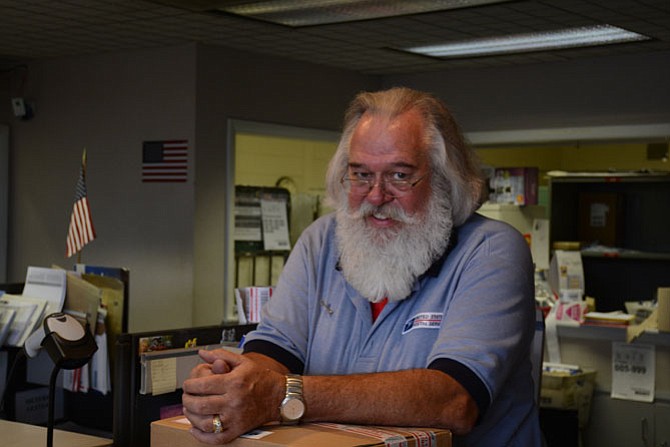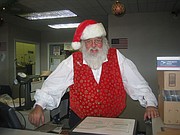 Wendy Kilpatrick used to mail her packages with help from Santa. The Hollin Hills resident would often joke with the Christmas icon while purchasing postage at the Belle View Post Office.
"I would say, 'Oh I loved you in 'Polar Express,''" she said. "He said, 'It was such great fun working with Tom Hanks,' and really not miss a beat."
But on Oct. 30, Santa Claus retired. At least from the Post Office. He'll still be making his usual 40 to 50 appearances around the Washington, D.C. metropolitan area this Christmas season. But after over 30 years, his daytime alias Tom Bailey hung up the postal clerk's packing tape and package scale.
"I don't think he's fully realized the retirement yet," said Mrs Claus, aka Marlo Ivey, Bailey's wife of 26 years. "I think it's going to take a while. He's so excited to devote full time to being Santa for the season."
Though his hair wasn't always white, his beard full, his belly appropriately jelly-like, Bailey has always "had the feeling." The Shirlington resident grew up in Alexandria and attended Bishop Ireton High School, Northern Virginia Community College and George Mason University before beginning work with the Post Office.
"A lot of people at the Post Office, they're really nice people, but he just stood out," said Kilpatrick. "You can walk in and see him there: It's comfortable, he cares about you."
Bailey loved the joyful spirit of Christmas and would wear red clothing and a Santa hat to work every December. Ten years ago, he realized a more profound calling.
While working at the main Alexandria office around Christmas, Bailey heard a young boy trying to talk to him while he and his mother moved through the line to the counter. When they finally reached Bailey, the boy asked him if they could sing together.
Bailey humored the boy, but when he forgot the words to the song, encouraged the entire office to join in and sing along. "It turned into a wild party," he said.
A co-worker knew the mother and told Bailey after the fact she had been diagnosed with cancer several weeks earlier. "This is the first time she's smiled," said Bailey, "was because of my interaction with the child. It just got me right here." He became Santa then and there.
A decade later, Bailey as Santa appears all over northern Virginia and Washington, D.C., both as a commercial enterprise and a volunteer. He usually starts the season at the St. Mary's Catholic Church Christmas Bazaar in Alexandria, the Saturday before Thanksgiving.
From there he visits the Kennedy Center, the National Institute of Health (NIH), Postmaster receptions, churches, schools and other locations. He also helps with Santa America, a national volunteer service that brings Christmas to members of the military who are deployed at Christmas.
Mr. and Mrs. Claus attend the annual party at the NIH Children's Inn. "Last year, my wife and I had to take a step back," said Bailey, "because seeing those children, knowing how ill they were and in such good spirits, just broke our hearts."
Ivey, who only joined Bailey as Mrs. Claus five years ago, said experiences like that stick with them.
"They're so far away from home on a holiday that's truly centered around family," she said. "Here they're not at home in their own bed, but they're sick, being poked and prodded. Just to see them smile for two minutes, what a marvelous feeling that is for us."
The couple refer to each other as "Santa" and "Mrs. Claus," Bailey a little more often than Ivey. "I don't always want to vacation with Santa," she said. "Sometimes I want to vacation with Tom. But it's always thrilling to watch the children react to him, see the love they have for him. He's a big child in his own skin."
Bailey's white hair now flows past his ears, his snowy beard billowing from his jaw. He's fully invested, spending time and resources to be as authentic as possible, from his "fluffing" hair prep and makeup process, well-made wool suits and a true antique sleigh, complete with reindeer yoke. He figures if everyone had one, traffic along Route 1 would be much lighter.
"You've got to believe, believe in the spirit, if not in Santa," he said, switching to his characteristic dry wit. "The idea is if you stop believing, that's when you get socks and underwear for Christmas. You want the nice stuff? You keep believing."
This year he'll have more time than ever to help adults and children keep the faith.