Andree G. Lecureux, 90, restaurateur died October 24, 2014 due to cancer at Leewood Nursing home. She was an Alexandria resident for 52 years.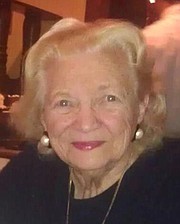 Mrs. Lecureux was born in Argenteuil, France. She moved through the country during the German occupation working in a bakery and a chocolate factory.
In the mid 1950s she and her children set sail for America. Working as a barmaid at Fireside Inn she met Stanley Lecureux, her husband and business partner. He would stop in for a burger and conversation regularly. The two hit upon an idea of buying a restaurant, so shortly before they married, they purchased a small establishment called the Auburn Bar and Grill, which was near the railroad.
They kept the old bar sign, "Shirt and Shoes Required," started serving French specials twice a week and changed the name to Chez Andree. She started as the chef. Thanks in part to thumbs up review by a restaurant critic, the lines soon were long, the bar was gone and the restaurant was thriving. After 50 years it is still running.
Chez Andree has been voted Best Neighborhood Restaurant several times and has won numerous cuisine awards from Washingtonian Magazine and area newspapers. She and her husband amassed a cellar of about 3,000 bottles of wine and won the Wine Spectator Award of Excellence numerous times during three decades in the business.
She was the classic host and quite a pioneer in the days.
She will be remembered for her warm hospitality, her joy of cooking and entertaining of friends and family. She was an avid gardener and antique shopper, but most of all she loved her family.
A daughter, Eileen Ficadenti died in 1989. Her husband Stanley S. Lecureux, of Alexandria, died in 2005.
Survivors include five children, Laurence Matrat of Annapolis, Harry Saffell of Fairfax City, Catherine Fudge of Alexandria, Nicole Rooney of Florida and Steven Lecureux of Alexandria; seven grandchildren and one great grandchild.
Family will receive friends to celebrate her life of 90 years at Chez Andree Restaurant, 10 East Glebe Road, Alexandria, VA 22305, on Saturday, Nov. 8 from 1-4 p.m.