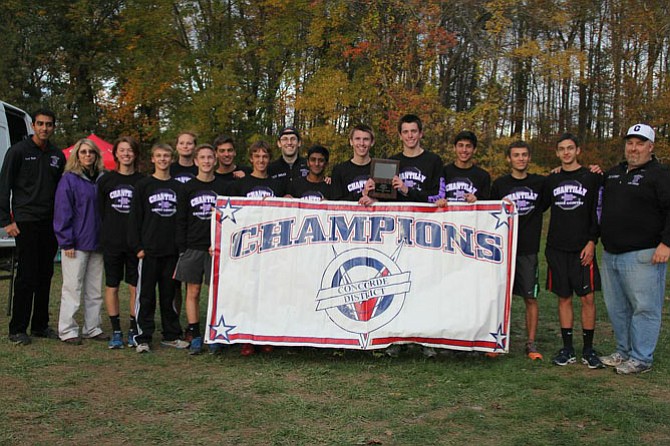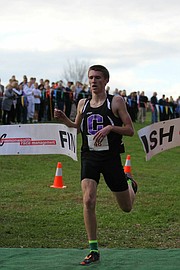 Chantilly's Ryan McGorty entered the Conference 5 meet on Oct. 30 with aspirations of producing the second-fastest time in school history.
The goal: beating Eric Post's time of 14:48, which would leave only McGorty's brother, former state champion Sean McGorty, ahead of him on the list of top Charger performances.
At the end of the race, McGorty fell just short of his goal, finishing in 14 minutes, 49 seconds at Burke Lake Park. But there was no need to feel bad for the senior harrier. McGorty still finished with the third-best time in school history, the 13th-best time in the history of the Burke Lake course, an individual Conference 5 championship and a team title.
"I'm going to be honest," McGorty said, "I'm very excited."
McGorty was the only Conference 5 runner to break 15 minutes on Oct. 30.
His performance helped two-time defending state champion Chantilly earn a first-place score of 47. Oakton finished runner-up with 52, followed by Robinson (62) and Centreville (86).
"Ryan has had a tremendous season," Chantilly head coach Matt Gilchrist said. "This is his fourth win. ... He's also been getting better. Winning is great, and this is a major win for him ... but he has taken a step forward. Last year, he was the team leader and he was third in state, but he's taken it to that next level. When you're running in the 14-anything, you're in rare company."
Chantilly sophomore Brandon McGorty earned all-conference with a seventh-place finish and a time of 15:38. Evan Compton finished 11th with a time of 15:52, Christopher Wigle took 12th (15:54) and Nicholas Marotta finished 16th (16:07).
Each of the Chargers' top five produced a personal-best time.
The Chantilly boys' team "met and exceeded all expectations," Gilchrist said. "...We've been looking all year for the postseason. This is the approach we've taken the last few years and it's been successful."
Westfield senior Johnny Pace finished runner-up with a time of 15:04.
Centreville had two individuals earn all-conference: Brent Bailey (sixth, 15:36) and Dan Horoho (13th, 15:57).
The Chantilly girls' team qualified for regionals with a fourth-place finish despite injuries to multiple key athletes.
Oakton won the event with a score of 30, followed by Robinson (49), Westfield (83) and Chantilly (116).
"We sort of had to re-adjust our goals midseason," said Gilchrist, who added that one of the team goals was to qualify for regionals.
Christie Murray, a junior, was Chantilly's top finisher, placing ninth with a time of 18:28.
Robinson senior Lauren Berman won the individual title with a time of 17:39. Westfield junior Sara Freix finished runner-up with a time of 17:44.
Centreville's Jackie O'Shea earned all-conference with a seventh-place finish and a time of 18:18.
The 6A North region meet was held Wednesday, Nov. 5.
The 6A state meet will be held Saturday, Nov. 15 at Great Meadow.