When the weather turns chilly and the produce at farmers' markets change from bright orange tomatoes to thick skinned squash and pumpkins, Dorothy Myers faces a culinary conundrum.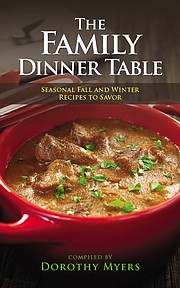 "I've always thought of myself as a creative cook, but making filling and healthy fall and winter meals are much more of a challenge," said Myers who lives in Potomac. "So I decided to gather some recipes that were hearty, but also easy to prepare. "
Myers' efforts culminated in a book released last month called "The Family Dinner Table: Season Fall and Winter Recipes to Savor." The collection of recipes was gathered from chefs both local and in other parts of the country. One thing they have in common is their use of the freshest cold weather produce and the ability to create a filling meal for one's family with minimal fuss.
"I wanted most of the recipes to be one-pot meals that could be made in a Dutch oven or a crock pot," said Myers. "I love being able to put ingredients in a pot and come back hours later to a hearty meal and a savory aroma wafting through my house."
One chef who is in Myers book is former White House pastry chef Susan Limb, who now owns Praline restaurant in Bethesda. "I think using good, fresh ingredients is the key to creating good food," said Limb. "My favorite fall and winter produce have to be squash and root vegetables."
Amanda Clark, of Old Town Alexandria, Va., who has a collection of recipes in Myers' book, said that she believes "it is possible for busy families to cook fresh, wholesome and tasteful meals each night of the week."
The key, she said, is "paying attention to the seasons and cooking seasonally."
Arlington, Va.-based chef Kristin Robinson considers beets, kale, cauliflower, mushrooms and squash among her favorite fall and winter produce.
"Knowing how to prepare a vegetable and retain its vitamins and minerals is important," she said. "For example, blanching a green vegetable in boiling water turns the water green with a rather large percentage of vitamins and minerals. Steaming vegetables is healthier."
Myers considers her cookbook a healthy celebration of the bounty of fall and winter. It is available on Amazon.com