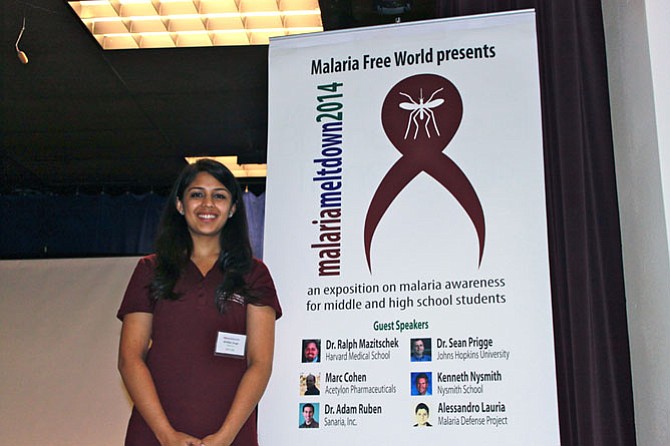 Kritika Singh wants to eradicate malaria for good - one mosquito at a time.
The 16-year-old McLean resident and CEO of Malaria-Free World hosted the inaugural Malaria Meltdown conference at Nysmith School of the Gifted on Sunday to educate her generation on the dangers third world countries face with the disease.
"Once I realized what a big deal it was in other countries and how we don't know much about it in this country, I decided I was going to do something about it," she said.
Singh found out about this funding gap when she interned for a pharmaceutical company over the summer. Her malaria research was on a tight budget in the laboratory compared to research on other diseases and viruses.
She established Malaria Free World as an organization in August right before she was starting her school year at Thomas Jefferson High School for Science and Technology. She hopes it will both be used as an educational platform about the disease as well as a way to raise funds for research.
The free conference featured six experts in the field from all over the country, including another teen who started an organization after experiencing the disease for himself.
"It was like having the flu, but 10 times worse," said 14-year-old Alessandro Lauria, founder of the Malaria Defense Project.
Lauria, who traveled from Colorado for the conference, had malaria three times 10 years ago when his mother was stationed in Ghana and recalled extreme headaches and hallucinations. He also recalled, however, watching children from local orphanages suffering from the disease, but not having the money to recover from it like he did.
"Unfortunately, mosquito nets are not the most available or affordable to those who need them the most," he said.
During his last trip abroad, he raised enough money to hand out 481 nets, focusing his efforts on pregnant women and children, before starting his nonprofit.
"This gives me hope that this might be the generation that finally eradicates malaria from the planet," he said.
Johns Hopkins Malaria Research Institute Associate Professor Sean Prigge talked about what malaria needs from red blood cells in order to survive - and what is needed to eradicate the disease from the planet.
"There are real problems in using old tools to fight malaria," he said.
Ten years ago, he said, only four strains of the disease were known. Today, there are more than 100 strains, five of which affect humans. Medicine for it dates back to the 1600s, but he said malaria is a disease that develops resistance very quickly.
What it needs during the blood cell stage of development, however, is iron. Without iron, he said, the parasite dies rather than infecting other red blood cells. Those who are anemic have less of a chance that malaria will survive in their body.
Likewise, a lack of biotin is important if the parasite reaches the liver stage.
"There's a link between parasite growth and nutrition," he said.
Singh is already planning a fundraiser and awareness campaign that involves a dance and a science competition later in the school year. She hopes to work with the foundation beyond her high school years.
"I'd really love to go into research as well," she said.
She encourages the community to get involved with the organization by volunteering, applying to join their team or donating money.
For more information about Malaria Free World, visit http://www.malariafreeworld.org.