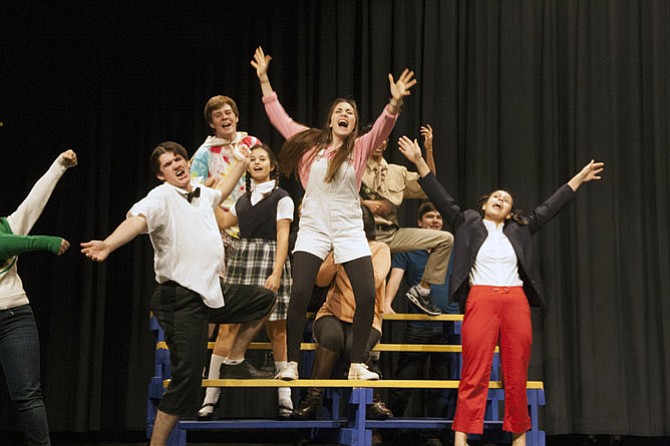 Six of Langley High School's thespians will participate in the 25th Annual Putnam County Spelling Bee.
This is no ordinary bee, though: it is an improvisation musical with hilarious hijinks that will be shown by Saxon Stage at 7 p.m. Nov. 13 to 15 at Mclean Bible Church, and audience members will not be expected to sit in their seats for this one.
Part of the improvisation includes interacting with audience volunteers who attempt to outspell the actors during one part of the play.
"They have the chance to star in a show without going to rehearsal," said senior John Anderson, who plays Leaf Coneybear.
For others, like sophomore Camila Maric, the play gives her peers outside of theater a chance to interact with her in character. She said she is typically shy outside of theater - but in character, she can be anyone.
The show itself started as an improvisation, so the names of the parts are just as random as Coneybear's.
Additionally, rather than having one or two leads star in the show, there are six lead parts to allow each character to develop as the musical progresses.
"Everyone has to work together," said senior Nick Regan.
Throughout the show, the young teens learn how to deal with their anxiety, fears and sometimes newfound crushes - in the case of Trip Tolentino. Tolentino is played by Kanishk Singh, sophomore.
"My character is a boy scout and a returning champion," he said.
His character ends up misspelling a word, he said, due to an "unfortunate distraction."
"The show is generally a huge joke with bits of emotion through it," said Jamie Goodson, sophomore, "There are so many funny parts."
She said she has seen this show three times professionally and she thinks Langley's production is comparable.
Director Valerie Karasek said the most challenging aspect of the rehearsal has been practicing away from the venue they are showing the musical at. Because the auditorium is in the process or being renovated, its run will be at McLean Bible Church - but the rehersals are still at Langley High School.
"Because we had to relocate to the venue, I needed something that was fairly portable and low-tech," she said.
She said that The Children's Hour, which was done in the spring, would have never been portable enough to relocate. The theater department received a Cappie for the performance.
"The next show is going to be even more challenging," she said. "It's the unexpected that can be a little unsettling."
For more information or to buy tickets to the show, visit http://www.brownpapertickets.com/event/908694.