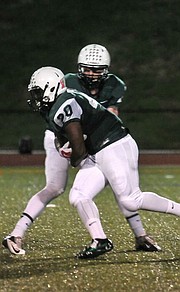 The latest challenge facing Wakefield head football coach Wayne Hogwood is a product of the Warriors' season of historic success.
Wakefield's list of accomplishments in 2014 includes the program's first winning season since 1983, and its best record (7-3) since 1972. On Friday, Nov. 14, the Warriors will host a playoff game for the first time in school history. With all the positives experienced by Wakefield players this season, how do the Warriors avoid a we're-just-happy-to-be-here approach to their postseason matchup with Potomac Falls?
"That is the struggle that my coaching staff is facing this week," Hogwood said. "I wish I knew how to do it but it's my first time having to do it. I can tell you at the end of the week whether I get it right or not."
Wakefield, the No. 8 seed, will host the No. 9 Potomac Falls Panthers at 7:30 p.m. on Friday in the opening round of the 5A North region playoffs.
It will be just the second playoff appearance in program history for the Warriors. Potomac Falls (Sterling) finished the regular season with a 6-4 record, including wins in its last two games.
"They're a good football team," Hogwood said, "[and] they play in a good conference."
Despite the game's historic significance, Hogwood said the Warriors are trying to approach it like any other contest while trying to avoid the festivities surrounding it. Running back Leon Young said the Warriors will no longer be viewed as an underdog.
"We won't play anymore teams that will overlook us and take us as a joke," Young wrote in an email. "We will be taken seriously from here on out and we have to be prepared and bring our A game every time."
After a 5-1 start, Wakefield lost two of its next three games, succumbing to Arlington foes Yorktown (44-21, Oct. 17) and Washington-Lee (27-20, Oct. 31). The Warriors ended the regular season on a winning note, however, beating winless Mount Vernon 45-12 on Nov. 7. Young had a huge night, carrying 19 times for 192 yards and a touchdown, and catching three passes for 79 yards and two scores. Quarterback Riley Wilson completed 7 of 13 passes for 209 yards and two touchdowns. Kareem Hall carried six times for 71 yards and a score.
"I feel like we did what we were supposed to and played Wakefield football," Young wrote. "We started slow and didn't really get rolling until second quarter. We have to start hot every game if we want to be successful and practicing for Thanksgiving."
Hogwood, a 2000 Wakefield graduate in his second season as program's head coach, is familiar with at least one member of the Potomac Falls coaching staff. Hogwood played quarterback at Shenandoah University for then-head coach Paul Barnes, who is now the Panthers' offensive coordinator.
While Hogwood is trying to make sure the Warriors are focused on the task at hand, the fact that Wakefield is even in the playoffs is quite the accomplishment.
"We're definitely proud of our young men that we've been coaching," Hogwood said, "but we're not stopping to reflect on that. ... The season is not finished."
For Young, the Warriors' accomplishments this season reach beyond the football field.
"It feels great to be a part of something so historic in my community," Young wrote. "I've lived in Arlington all my life from kindergarten to 11th grade and I'm finally giving back to the community and giving them something to cheer about."
More like this story