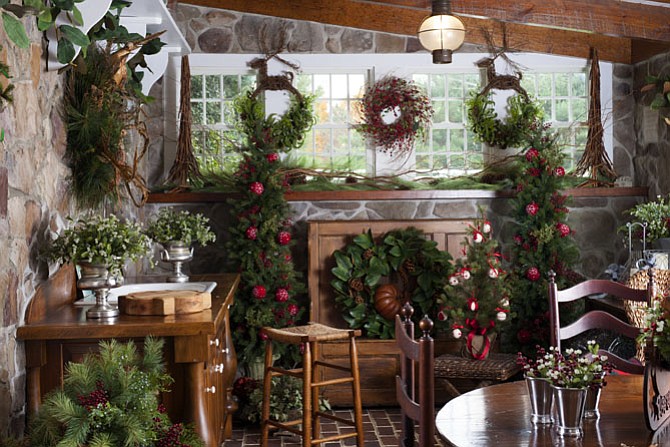 Though Christmas comes but once a year, for Linda Hobbins, it's a year-round passion. She custom designs fresh, dried and silk arrangements, wreaths, holiday trees, hurricane lamps, centerpieces and other holiday decor items.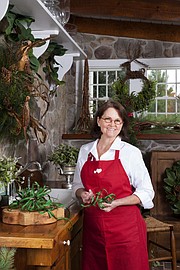 "I work all year long and I concentrate primarily on fall and the holidays," said Hobbins, who owns Custom Wreaths of Potomac. "I'm always trying to be original and artful."
Hobbins began making wreaths while working at Benhke's Florist, formerly of Potomac. "It was a wonderful experience of being very artful with the craft," she said.
After discovering her passion, Hobbins began making wreaths on her own. She turned the bottom level of the carriage house off her main house into a workshop. She sees clients by appointment.
"I've admired Linda's custom wreaths for some time, and when I visited her workshop in the red carriage house, the sights and smells were just fantastic," said Sherry Earley of North Potomac. "It was difficult to decide what to buy because I loved everything.
"Among my purchases was a reindeer wreath that I'll hang on my front door during the holidays. I also bought a hurricane lamp decked out in berries and bows. I'll be returning for my holiday tree very soon. Linda was so attentive to my decorating needs, and everything she makes is designed to use year after year. I'm sure I'll find more beautiful pieces to purchase for family and friends when I return."
This year, Hobbins decked the halls of her carriage house and studio using a Scottish holiday theme. "We intended for the carriage house to be a guest house for our children," said Hobbins, who has five children and eight grandchildren. "Now the carriage house is all set up for Christmas and Thanksgiving."
Hobbins says fall wreaths are among her most popular creations.
"Last year, my sister gave me two wreaths custom designed by Linda Hobbins," said Mary Hooper. "One I use in the fall because the colors remind me of the changing seasons and autumn leaves. The berries and eucalyptus of the other wreath look beautiful in my home during the December holidays. I'll be visiting Linda's workshop soon to add a centerpiece for my dining table. She always designs such unique pieces that make my home special."
Hobbins receives the greatest number of requests for those items.
"For fall and Christmas, everyone wants wreaths and centerpieces," said Hobbins. "I'm always creating a third dimension so that there is rich depth and flow and undulation in the wreaths. You can see it when you see the work. The wreath has to take on a life of its own. I work hard at creating that."
"Two years ago I bought a gorgeous fall swag for my front door from Linda at Wreath Love," said Nancy de Pastino. "It's unique, beautiful and so well constructed that it has survived a few seasons of being outdoors. It continues to brighten and warm our front door, and will for years to come."