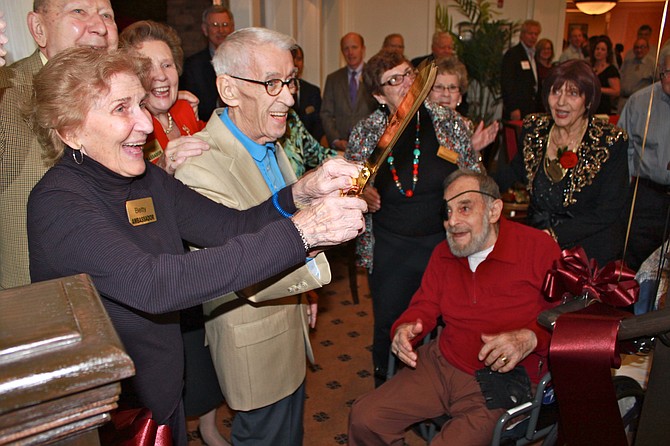 Brightview Senior Living opened with a party and a full house.
As Great Falls' first senior living community, the assisted living complex's grand opening on Nov. 6 gave local seniors the option to stay close to their loved ones.
"It's a privilege to make this into a home for so many of our older adults," said Executive Director Tina Aulakh.
She told the new residents that the community loves all of them and hopes they feel that love during the duration of their stay - "a new chapter," as she called it, for these residents' lives.
She said the land that Brightview is where once Thelma's Ice Cream was. The center is honoring the memory by serving the original recipe of the two favorites, coffee and black cherry ice cream. Many people in the crowd cheered for the news.
Dranesville Supervisor John Foust said he was also excited about the news in his speech.
"It broke our hearts when we heard Thelma's was going to close," he said. "We're glad to have it back."
He commended the opening of the facility, stating that it allows Great Falls citizens to stay in the village as they get older.
"It's absolutely beautiful," he said. "It's a tremendous asset to the community."
David D. Carliner, executive vice president of Shelter Development, agreed that the community is beautiful and hopes the new residents appreciate it.
"At the end of the day, this is really all about the people," he said.
Several of the new residents entertained visitors with a drum circle and bells played to the tune of classic tunes. The "bellini reception" left residents and visitors alike with libations or ice cream goblets in hand while they toured about the common rooms and hallways. After the speeches, the first residents of Brightview got to participate in the ribbon-cutting. The building opened for new residents in mid-September but was not unveiled to the community until last week.
Reston resident Betty Ogg was one of those original residents. She only had to travel from "right up the street," she said, from her previous home to Brightview.
"I think it's wonderful," she said. "It's a huge change, but it's wonderful."
Another one of the first residents, Marc Nevenstone, previously lived in Chantilly. As a New York City native who appreciated a good laugh, he said he is trying to get an authentic city-style deli in the cafeteria.
"So far it's been pretty good," he said. "It's an amalgamation of cultures."