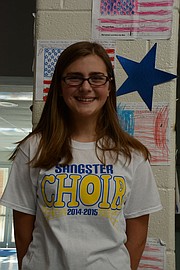 When Rachel Heyne sang "Let Freedom Ring" on Veterans Day with her classmates in the Sangster chorus, the message touched her.
"It's basically about how we can do all these things, we can worship as we please, go anywhere we want," the Fairfax Station resident said, "because a bunch of people gave up their lives so we could be free."
Heyne's father Todd, a member of the Navy, was in the audience gathered in front of Sangster Elementary School. "It made me feel how lucky I am to have a dad who works in the military, who's my hero," Heyne said.
Heyne and fifth and sixth grade members of the chorus, handbell choir and band performed at a special celebration shortly after school started on Nov. 11. Sangster Principal Lisa Reddel spoke after the performance of "Let Freedom Ring."
"Students, this celebration is about you, you are the next generation to lead our country," Reddel said. "It's my hope that part of today's celebration helps remind you of our cherished values and instills a strong sense of patriotism and citizenship today."
Cmdr. Rick Batson, U.S. Coast Guard, spoke about honoring not just veterans but their communities. "For every one of us who puts on the cloth of our nation, we know that there are husbands and wives and mothers and fathers and sons and daughters that support that service," he said. "And without whom that service wouldn't be possible. So thank you to the families who are here today."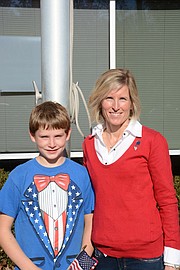 Col. Jayson Spade, U.S. Army, gave the students a quick history lesson of how Veterans Day began as Armistice Day on the anniversary of the conclusion of WWI.
"Today, we remember every soldier, every marine, sailor, airman, coastguardsman, all those who gave years of their lives to defend this country," he said. "Millions of Americans have served and today there are over 20 million living American veterans walking amongst us."
The additional service members in uniform on hand to raise the American flag in front of the school were Lt. Col. Stephani Hunsinger, U.S. Air Force; Lt. Col. Mark Smydra, U.S. Marine Corps; Cmdr. Tres DeHay, U.S. Navy.
BEFORE THE FLAG WENT UP, Lt. Col. Hunsinger read the poem "I am the Flag" by Ruth Apperson Rous.
"As you see me silhouetted against the peaceful skies of my country," Hunsinger read the poem's final lines, "Remind yourself that I am the flag of your country. That I stand for what you are, no more, no less. Guard me well, lest your freedom perish from the earth. Dedicate your lives to those principals for which I stand."
With the flag raised, the choir and hand bells joined together for the National Anthem. It was a difficult two-part arrangement the performers worked on during their break time leading up to Veterans Day.
"I was really nervous," said Claire Johnson, a fifth grader from Springfield. "But I also felt like [veterans] help the community so much that I should help too. It helped me get over my nerves. Honoring them means telling all the people who have sacrificed their lives, family, telling them thank you."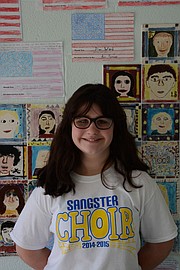 "It means thanking them for for helping us have liberty for our country," said Parker Smith, a sixth grader from Springfield.
THE EVENT was organized by the Sangster Military Spouses Group. Out of 900 students and 637 families, 133 families identify as military and part of the group, which collaborates with the school on numerous activities, including new student orientation and counseling for students with parents deployed overseas. But they're also a network for military families new to the neighborhood.
"We're that instant connection," said Brenda Stuart, president of the group. "Just to offer support for each other as long as you're stationed here."
Stuart's son Trevor is in fifth grade at Sangster, while her husband is serving overseas with the Air Force. "The flag-raising and chorus singing means a lot," Trevor said. "And it's just awesome how so many people serve and protect our country."
Alexa Heseltine, a Sangster sixth grader from Burke, has parents, grandparents, uncles and cousins in the military.
"It's really hard to be in the military most of the time," she said, "because you don't know if your dad's going to come home and say you're leaving, or if he's going to have to go somewhere for a while. Sometimes it's scary, but knowing that he's helping people is a good feeling."
When Rachel found her father after the performance, "I said Hi," she said. "Then I said that I love him, and thank you for serving in our military."