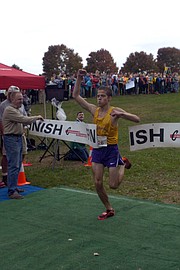 The Lake Braddock boys' cross country team won the 6A North region championship, and the Bruins, Robinson and West Springfield will each send their boys' and girls' teams to the state meet on Saturday, Nov. 15, at Great Meadow.
Led by senior Alex Corbett, the Lake Braddock boys' team won the region title with a score of 37 on Nov. 5 at Burke Lake Park. Oakton finished runner-up with a score of 86. West Springfield (118), Chantilly (120), Robinson (170) and Washington-Lee (203) also qualified for states.
Corbett won the individual title for the Bruins with a time of14:41. Six days prior, Corbett became the first Lake Braddock boys' harrier to break 15 minutes when he won the Conference 7 championship with a time of 14:47, which at the time was the 11th-best time in the history of the Burke Lake course.
Lake Braddock's Kevin Monogue placed fourth at regionals with a time of 15:00. Colin Schaefer placed sixth (15:07), Ben Fogg finished seventh (15:22), and Evan Chase took 23rd (15:49).
Robert Lockwood led Woodson with an eighth-place finish, recording a time of 15:23. West Springfield's Timothy Ward placed 10th (15:28), and Fairfax's Alex Maguire qualified for states with a 15th-place finish (15:34).
Hunter Jetras was Robinson's top finisher, coming in 16th with a time of 15:35.
Oakton won the girls' region title with a score of 58. Madison (67), Lake Braddock (79), Patriot (116), Robinson (190) and West Springfield (219) also qualified for states.
Patriot's Rachel McArthur won the event with a time of 17:21. Robinson's Lauren Berman placed seventh with a time of 17:47. South County's Faith Zolper (18:02) and Louisa McPherson (18:04) placed 100th and 11th, respectively. Lake Braddock's Kate Murphy finished 12th (18:10) and teammate Sarah Daniels placed 15th (18:17).
Emily Keast led West Springfield with a 24th-place finish (18:34).