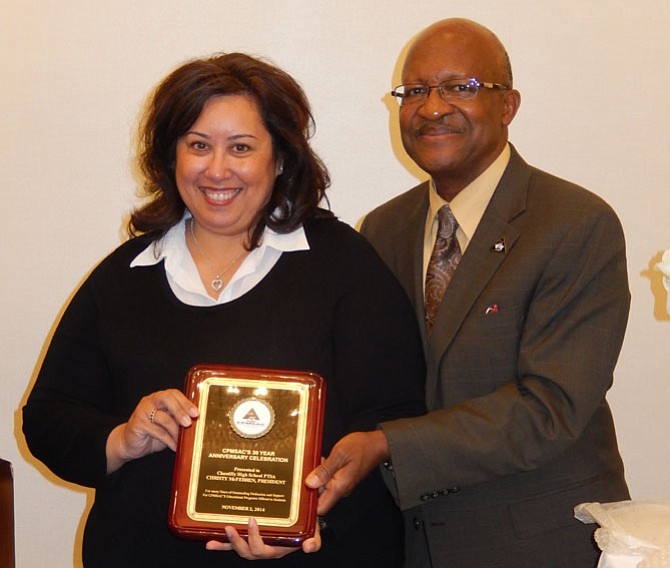 Chantilly — During the reflections portion of The Chantilly Pyramid Minority Student Achievement Committee's (CPMSAC) 30th-anniversary celebration, people explained from various
perspectives what the organization has meant to them.
The Rev. Eugene Johnson, pastor of Mount Olive Baptist Church — and a charter member of CPMSAC — recalled how things used to be in the early 1980s. And he said CPMSAC was a response to that situation.
"African-Americans were being expelled from school at an unprecedented rate, and Shirley Nelson thought that was deplorable," he said. "We've come a mighty long way since then. She was the wind beneath the wings of CPMSAC and believed that faith is sharing ultimate concern. And we've seen what can be done by individuals who've had ultimate concern — God bless you all."
NVCC counselor and a CPMSAC volunteer, along with her husband and children, Andria Shoates said, "We try to impart a piece of what we've learned." And eventually, she said, "Students learned they were smart and capable and felt like they mattered — and they came back and tutored others. The students taught us more than we taught them."
Addy Mau, a parent representative from Rocky Run Middle School, is the liaison between CPMSAC and the school system. "We moved from California and my children struggled in school here," she said. "STEP [CPMSAC's Saturdays Toward Excellence Program] became our family and both children are now doing great in school."
"The other parents helped me, and my children were delighted to win awards from CPMSAC," continued Mau. "With CPMSAC, there's hope, love and commitment, and I thank all of you from the bottom of my heart."
William Gary, who's black, is executive vice-president of Workforce Development, and his three children went through CPMSAC. "Thirty years ago, when our children were entering Fairfax County Public Schools, we were concerned how they'd be treated and how their progress would be monitored and tracked in a predominantly white school system," he said.
"It needed to be sensitized to our children's needs," continued Gary. "And collectively, we worked together to achieve a level of sensitivity, achievement and progress that should be afforded to all children in Fairfax County."
CPMSAC Vice-President Sye Smith and President Johnny Nelson then presented plaques to Chantilly High Principal Teresa Johnson and Westfield High Principal Tim Thomas. Smith also noted that "no members of our executive board have children in the school system today. It takes a village, longevity and stick-to-it-ness to raise a child, and the individuals honored here tonight helped us do this."
Also receiving plaques were Larry Bussey, on the FCPS Minority Student Achievement Oversight Committee, and Chantilly PTSA President Christy McFerren. "In 30 years, I hope there isn't an achievement gap, at all," she said.
Barbara Tyler, CPMSAC vice-president, educational programs, was honored, as well, for her many years of service to the organization. As chairman of the anniversary celebration, she told the attendees, "We loved hearing what you had to say about our organization. It gives us the motivation to keep doing it."