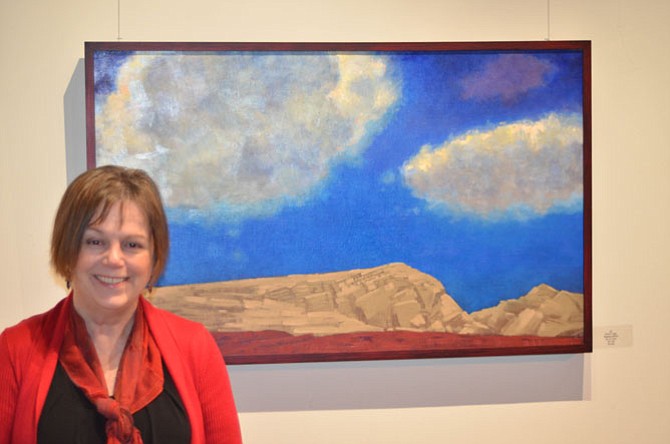 Herndon's community art gallery ArtSpace Herndon opened a new painting exhibit to the public in November. The exhibit "Skies" by artist Bobbi Pratte is a collection of landscapes, painted in locations across the United States and Europe, with focus on the sky. The exhibit will be on display at ArtSpace Herndon until Nov. 30. Many of the paintings are available for purchase.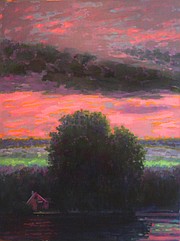 An art reception open to the public was held the evening of Saturday, Nov. 8 at ArtSpace. The gallery was filled with friends and students of Pratte. Performing on the guitar were Mike and Dave Gassmann of the Gassmann Jazz Duo. The art exhibit is Bobbi Pratte's first solo show at ArtSpace Herndon.
President of the Herndon Foundation for the Cultural Arts Harlon Reece welcomed everyone attending the event. Bobbi Pratte took the opportunity to thank all her friends and students for attending the evening reception, and thanked her husband for putting together the frames for her paintings. The series is inspired by the famous British landscape painter John Constable.
Pratte has a description for each painting noting the location's time, place, and weather conditions. Many were painted entirely on location, and some were started en plein air (in the open air) and completed in the studio. "Skies" shows 44 paintings, the majority of which are oil, with some works on paper as well.
"I love Bobbi and the work she does, she is a great teacher and she has some very loyal students," said Doriann Fengler. Pratte has over 40 years of teaching experience in the arts. She has taught at NVCC, Montgomery College, The Corcoran School of Art, and Falls Church Arts, as well as guest lecturing at institutions and art organizations. She currently teaches landscape painting and iPad workshops for artists at the ArtLeague School in Alexandria. "I like the variety, you can see a difference in the colors," said Peggy Lindsey, a resident of Alexandria.
The art show is a travelogue, inspired by skies all over the world. Upcoming events at ArtSpace Herndon include the Herndon Has Talent on Saturday, Nov.15, at 7:30 p.m. showcasing local singers, poets, and musicians. Continuing events include the Design and Wine art sessions led by guest artists in the Post Gallery at ArtSpace Herndon. On Wednesday, Dec. 31, ArtSpace Herndon will host Herndon's traditional New Year's Eve celebration. ArtSpace Herndon is located at 750 Center Street, Herndon.