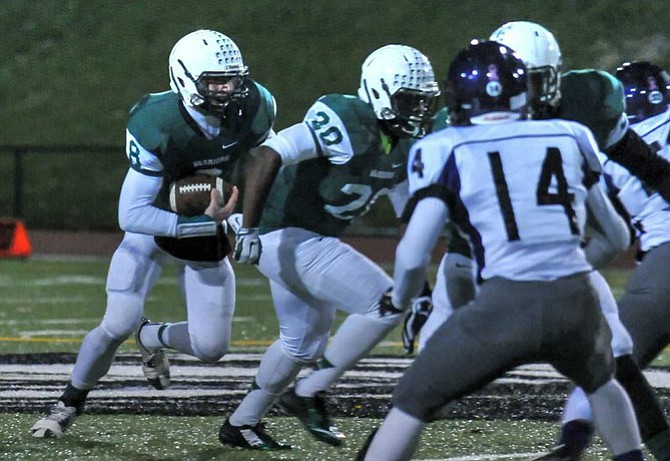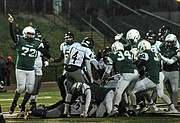 A pair of Wakefield miscues turned an early Warrior lead into a halftime deficit on a chilly Friday night in South Arlington.
The Wakefield football team, hosting a playoff game for the first time in program history, jumped out to a 10-0 lead against Potomac Falls. But a strong start by the Warriors gave way to the kind of mistakes to which Wakefield fans are accustomed.
A roughing-the-passer penalty on fourth down kept alive a Potomac Falls drive, leading to a touchdown. Moments later, the Warriors lost a fumble and the Panthers capitalized on the next play, scoring a touchdown that gave Potomac Falls a 12-10 halftime advantage.
Is this how Wakefield would end its first winning season since 1983? By losing a winnable game with the kind of mistakes that have plagued the program for decades?
"[With] all the mental mistakes, we were putting ourselves down," Wakefield defensive lineman Anthony Tham said. "We had to pick ourselves up."
That's when Kareem Hall made a play.
The Wakefield running back converted on fourth down with a Herculean 31-yard run in the third quarter, setting up the go-ahead touchdown. The Warriors held on for the remainder of the contest, finishing off Potomac Falls 25-18 in the opening round of the 5A North region playoffs.
It was the first playoff victory in Wakefield football history.
"It's amazing," Hall said. "... I knew we were going to do something special."
The play was called "34 pull it." Wakefield faced fourth-and-inches at the Potomac Falls 35-yard line when Hall, lined up at fullback, took the handoff from quarterback Riley Wilson and got stuffed in the backfield by the Panther defense. But instead of going down and giving Potomac Falls a massive momentum boost, Hall reached to the ground with his left hand, regained his balance, spun and took off down the field for a 31-yard gain, setting up Wakefield with first-and-goal at the 4-yard line.
"That's a playoff effort — refusing to go down because one guy [hit him]," Wakefield head coach Wayne Hogwood said. "We preach that to all our athletes. If you think you're a good football player, then one guy should never stop you and Kareem didn't let it happen."
On the next play, Hall punched it in the end zone with 6:56 remaining in the third quarter. Wilson connected with running back Leon Young for a two-point conversion, and the Warriors had an 18-12 lead they would not relinquish.
"It definitely changed the momentum because everybody was hyped after that," Hall said. "Everybody knew we could win this game."
Hall wasn't the only Warrior to step up in the spotlight. Tham, the Warriors' nose tackle, was a disruptive force in the Potomac Falls backfield and blocked a punt that Salar Raoufi scooped and returned 10 yards for a touchdown with 6:03 remaining in the fourth quarter, giving the Warriors a 25-12 advantage. It was Tham's sixth blocked kick of the season.
Wilson led the Wakefield offense, completing 6 of 14 passes for 116 yards, including 40-yard touchdown pass to senior Zain Khokar. Wilson, at 6 feet 4, 195 pounds, also rushed nine times for 87 yards.
Junior running back Leon Young carried 25 times for 117 yards. Hall had nine rushes for 53 yards.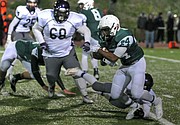 "We knew if we didn't win this game, [our season is] going to be over," Hall said. "We had to play our hardest tonight."
Wakefield finished the regular season at 7-3, the program's best record since 1972. The Warriors earned the No. 8 seed in 5A North and a home game against No. 9 Potomac Falls. Rather than rest on what they had accomplished during their first 10 games, the Warriors found a way to advance to the region quarterfinals.
"I can't even put it in words," Hogwood said. "It's a great feeling. It's almost like something you see in a movie."
After eight seasons as an assistant coach at Yorktown, Hogwood took over as Wakefield head coach in 2013, guiding the Warriors to a 3-7 record. Hogwood, a 2000 Wakefield graduate who played quarterback for the Warriors, quickly turned Wakefield into a winner.
Wilson, in search of more playing time with a goal of playing in college, transferred from Yorktown to Wakefield in 2013, as well. The signal caller has been instrumental in changing the football culture at Wakefield.
"Coming into this school year, kids said your team won't win five games," Wilson said. "... Just proving them wrong feels great."
Wakefield will travel to face undefeated top seed Tuscarora at 7 p.m. on Friday, Nov. 21 in the 5A North quarterfinals. Along with advancing in the postseason, Hogwood said Wakefield's win over Potomac Falls should help the Warrior football program continue to grow.
"People will stop seeing Wakefield as a basketball school completely, and maybe they'll want to play [football] here," Hogwood said. "I'm a teacher in Arlington; I still live in the area. There are a lot of kids that are like, I think I want to go to Washington-Lee or I think I want to go to Yorktown because they've done things the right way over there. [W-L head coach Josh] Shapiro has turned that program around, [Yorktown head coach] Bruce [Hanson] is always staying competitive and doing what he does, [but] now we've got a reason to make people think about hanging out here for a little bit."