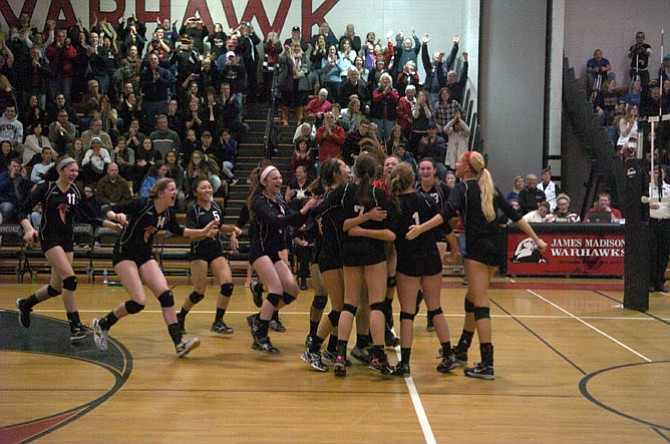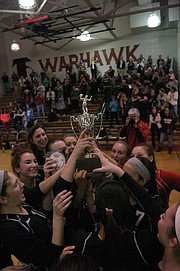 Members of the Madison volleyball team looked up at the banner listing the program's historical achievements and envisioned an alteration.
With a dominant performance against Osbourn Park in the region final Saturday night, the Warhawks earned their place in Madison history, and acknowledgment on the wall of their high school gymnasium.
Madison won its first region championship, capturing the 6A North title with a 3-0 (25-11, 25-6, 25-10) victory against the Osbourn Park Yellow Jackets on Nov. 15 at Madison High School. The Warhawks improved their record to 32-0 with yet another postseason sweep, and secured a home match in the state semifinals.
"We were standing there while [the Yellow Jackets] were [being recognized as region runners-up]," Madison outside hitter Natale Zanellato said, "and we were looking up at the [banner] and we're like, what's it going to look like with '2014' up there?"
Madison hosts 6A South region runner-up Ocean Lakes in the state semifinals at 6 p.m. tonight.
Many of the Warhawks entered Saturday's match with the memory of last year's season-ending loss to the Yellow Jackets in the region semifinals. Madison was 29-2 before Osbourn Park swept the Warhawks, leaving Madison one win shy of states for the second straight season.
"We had a great year going last year and then they came in in the semifinals and they beat me in three," Madison head coach Carrie Hall said. "We were all kind of in shock, to be honest."
It was the Yellow Jackets who appeared in shock Saturday night as the Warhawks took control early in the first set and never let up.
With the teams tied at 6 in the opener, Madison scored 19 of the next 24 points, including 12 of the final 14. Junior setter Kendal Hall helped spark the run with a pair of powerful jump-serve aces.
Zanellato, a junior transfer from Lake Braddock who did not play high school volleyball last season, had six kills in the opener, including the set-winner.
Madison built leads of 11-2 and 16-4 in the second set before closing with nine straight points. Junior outside hitter Jayne Carter had four kills and an ace in the set.
The Warhawks jumped out to a 12-2 advantage in the third set and closed with seven straight points, including a match-winning kill by Zanellato.
"We wanted to come out strong," Kendal Hall said. "Last year, with them beating us in the semis, we wanted to get revenge. We just had our mind set to win."
Zanellato finished with a team-high 13 kills. Senior outside hitter Marissa Roy, the 6A North region Player of the Year, finished with eight kills, and Carter had six.
Senior libero Virginia Moore, a first-team all-region selection, had four aces.
The sweep was Madison's 11th in a row, including regional tournament victories against Robinson, Battlefield and Westfield. The Warhawks dropped just five sets in their first 32 matches.
"I really feel like we played incredible all week long," Carrie Hall said. "... All week, we've beaten everybody in three. We've been playing incredible volleyball."
The state final is scheduled for 7 p.m. on Friday, Nov. 21 at VCU's Siegel Center in Richmond.