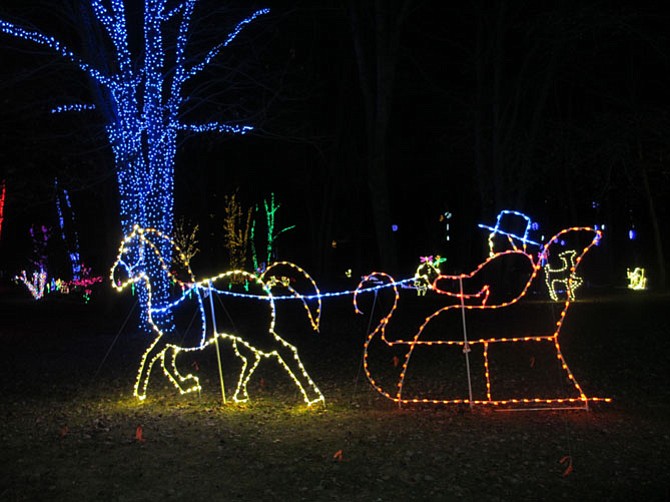 The Vienna area, from James Madison High School to Meadowlark Botanical Gardens, offers a diversity of holiday fun for all ages. Some are free; most are not.
While there has not been an official announcement regarding Town Green caroling, for the past two years spirited local residents have come together on the Town Green to spread holiday cheer. Look for an announcement in December's papers.
Winter Walk of Lights Festival
Meadowlark Botanical Gardens, facing Beulah Road, turns into a magical winter wonderland of festive lights for seven weeks, from Nov. 14, 2014 to Jan. 4, 2015. Owned by the Northern Virginia Regional Park Authority, Meadowland is more than 100 acres of plants, flowers, lakes and green grass. Dozens of displays and scenes – made up of more than a half a million LED lights - light up the parkland during the evening.
There's a gingerbread house, sleigh, carolers, whimsical animations, and an animated light show featuring 40,000 lights at the lake set to holiday songs.
Hot beverages are for sale, and, in the Snowflake Shoppe are ornaments.
Timed admission tickets are required. Adult prices are $13 each; children, 3 to 12, pay $8 each. Coupons that offer $1 off are valid Monday through Thursday only.Choose your start time and stay as long as you like; the park closes at 10 p.m.
Meadowlark Gardens suggest printing tickets at home and presenting them to the Visitor Center staff for admissions to the garden.
The 8:30 or 9:15 ticket times have fewer crowds.
Dress seasonally and understand that this is a walking show. The path is 0.6 miles long.
Meadowlark Botanical Gardens is located at 9750 Meadowlark Gardens Court, off Beulah Road, Vienna.
To buy tickets, go to http://winterwalkoflights.com/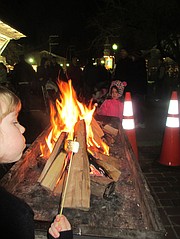 Church Street Holiday Stroll
Santa arrives at the historic Freeman Store via an antique fire truck on Monday, Dec. 1. At 6 p.m., sirens blare along closed historic Church Street. The mayor of Vienna and Santa light the town's holiday tree outside Freeman Store and Santa then takes up position on the front porch to listen to kids' Christmas wishlists.
Live music is presented throughout the evening and Church Street merchants stay open late. The petting zoo and marshmallow firepits are popular past times for children.
The festive event is free, including the hot chocolate, and is sponsored by Historic Vienna, Inc. and the Town of Vienna.
Church Street, from Park Street to Center Street, is closed to traffic during the event, 6-9 p.m.
For information, call Historic Vienna, Inc. at 703-938-5187 or visit historicvienna.org.
35th Annual Tiny Tots Holiday Concert
This lively, energetic concert, presented by the James Madison High School Band, is a perennial hit with the pre-school set, particularly. Popular holiday tunes anchor the program that also features "surprise" visits from special (costumed) guests. Toy soldiers greet guests, and the finale, a robust version of "Sleigh Ride," thrills the kids as snow falls from the ceiling.
Show times are 10 a.m. and 7 p.m . on Thursday, Dec. 4, and 10 a.m. on Friday, Dec. 5. The Thursday evening production is pajama-friendly.
New in 2014, tickets must be purchased online for groups less than 10. Follow link http://james-madison-band.ticketleap.com/tiny-tots for online reservations.Groups of 10 or more have the option of preordering tickets by mail. Admission is free for babies under 1 in parent's arms. Requests for reserved seating must be received by November 24. Walk-ins are welcome for all shows and tickets can be purchased in the lobby by check, cash or credit card 30 min. before the show.
Ticket prices are $8 per person.
James Madison High School, is located at 2500 James Madison Drive, a block off Rt. 123.
For information on program content and on buying tickets, to to
www.jmhsband.org/index.php?option=com_content&view=article&id=482&catid=54&Itemid=404%20
Wolf Trap Holiday Sing-a-long
This is one of those events that sparkles with holiday spirit. "The President's Own," the U.S. Marine Corps Band, takes over the stage at Filene Center on Saturday, Dec. 6, 4 p.m. Local choirs participate in the musical presentation, as well. Free admission.
The Toys for Tots tradition carries on at the center, and Marines collect unwrapped toys.
Other traditions stand fast, as well. Guests are invited to bring bells to jingle-along with "Jingle Bells," and candles for the "Silent Night" exit procession.
Keep in-mind that Filene Center is an outdoor venue. And it's December.
Parking at Wolf Trap is free.
Pancake Breakfast with Santa
There's excitement in the Flame Room of the Vienna Volunteer Fire Department station in mid-December..
The Vienna Volunteer Fire Department [VVFD] Auxiliary hosts its annual All-You-Can-Eat Holiday Pancake Breakfast at the VVFD, 400 Center Street S on Saturday, Dec. 13, 8 a.m. to noon. The price includes all the pancakes you can eat, sausage, bacon, juice, and coffee.
Santa Claus arrives at 10:30 a.m. to greet the children. Tours of the fire equipment are offered, as well.
Fire and rescue personnel, in uniform, are on-hand.
Price of the holiday pancake breakfast is $8 for adults, $7 for seniors, $6 for children under 12 years old, and free for children under 4.
Lunch with Santa
Town of Vienna welcomes Santa Claus to the Vienna Community Center at the town's annual Santa luncheon on Saturday, Dec. 6, 11:30 a.m. to 12:45 p.m.
Elves prepare hot dogs, chips, juice and cookies. KayDee Puppets performs a holiday-themed puppet show after lunch.
Cost per person is $5, under one year old is free. A maximum of six tickets may be purchased per family. At least one parent must accompany children and a ticket must be purchased for each parent and child.
Tickets are on sale for Town of Vienna residents from Saturday, Nov. 15 from 8:30 a.m. to 9:30 a.m., and for out-of-town residents beginning Nov. 17 if tickets remain. Tickets can be purchased at the Vienna Community Center front desk.
Parks and Recreation asks that guests bring a new, unwrapped toy when tickets are purchased for the Vienna Police Department's Santa Ride.
703-255-6360; www.viennava.gov
Holiday Wreath-making Workshop
Ayr Hill Garden Club members present a single-workshop instruction on holiday wreath-making on Friday, Dec. 5, 9:30-11 a.m. A wide range of materials will be available for your choosing. All materials are provided in the cost of the workshop. Space is limited. Tea, coffee and treats will be provided.
Register at Vienna Community Center or online at www.viennava.gov. Program number is 340074-A1 and cost is $25.
Winter Wonderland Party
Vienna Parks and Recreation does not forget about the area's "tweens." Club Phoenix, the free afternoon program for kids in 6th through 8th grade, is hosting a holiday party for them on Friday, Dec. 12, 3:30-10 p.m.
Club Phoenix provides treats, sweets and activities. Parks and Recreation asks that guests bring a new wrapped gift for participation in the White Elephant Party Game Exchange.
Vienna Volunteer Fire Department Santa Runs
Accompanied by elves dressed much like VVFD emergency-responders, Santa Claus stands aboard a 1946 Maxim fire engine, traversing Vienna's neighborhoods, waving to young kids and senior kids as the vehicle makes it way down side streets and main streets week prior to Christmas, with evening runs during the week, afternoon runs on weekends. Sirens blare, announcing Santa's arrival, and very loud holiday music that gets pretty-much everyone – even passing cars – in the holiday spirit.
The Volunteer Volunteer Fire Department posts Santa's schedule in early December. Visit www.vvfd.org for schedule and details.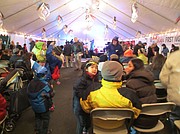 Family-friendly First Night Vienna
Vienna's inaugural family-friendly New Year's Eve celebration in 2013 drew hundreds of families, individuals and teens to the indoor and outdoor venues along historic Church Street. Sponsored by the Vienna Business Association and the Town of Vienna, the free event features live entertainment and kids' activities. First Night Vienna is alcohol-free.
Food trucks will open for service on Dec. 31 at 6 p.m., and the entertainment venues open at 7 p.m. Children toast the new year at 9 p.m. with a train whistle. Bands play at multiple venues between Mill Street and Lawyers' Road with a tented pavilion and main stage – with a light show and DJ - across the street from Freeman House in the caboose parking lot. An illusionist performs at Concord Lodge.
First Night Vienna's footprint has been expanded this year with the inclusion of the great hall of Vienna Presbyterian Church, bringing entertainment venues to four.
At Connection press time, details were being finalized. Check back with the Connection in early December for lay-out and schedule. To help out, e-mail Michael@caffeamouri.com.