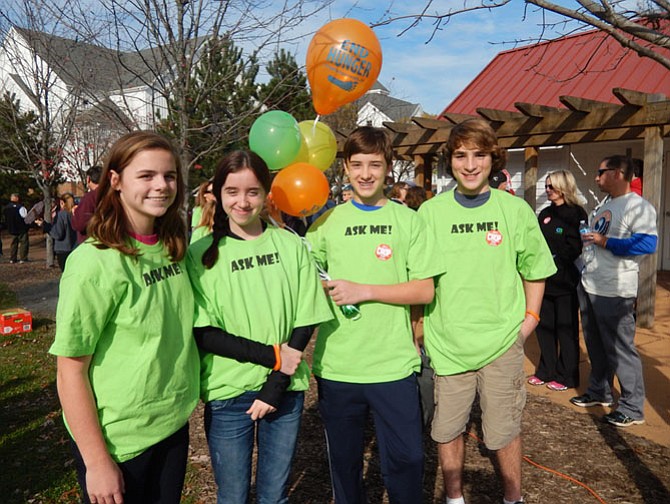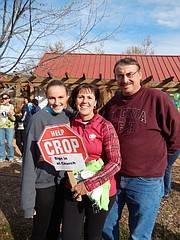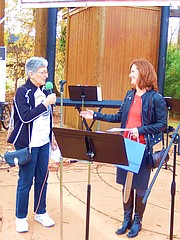 Many of those participating in Vienna's 10th Annual CROP (Communities Responding to Overcome Poverty) Walk had done so for several years. Others, like resident Martha Nichols, were walking in it for the first time.
But everyone knew exactly why they were there.
"The idea of people going without food in this county is awful, and we need to keep our children fed," said Nichols. "So this walk is something we should do."
The event was Sunday afternoon, Nov. 9, and was sponsored by Church World Service. This organization responds to human needs worldwide, both in crisis and every-day situations, providing food, clothing, medical supplies and access to clean drinking water to those needing it most.
Some 75 percent of the proceeds – raised by participants' registration fees, plus generous donations – go to Church World Service for disaster relief in the U.S. and in 80 different countries. The funds help people raise animals and crops for food, thereby fighting hunger and the root causes of poverty.
The other 25 percent benefits the Community for Helping Others (CHO), an all-volunteer group that helps the needy in Vienna, Oakton, Dunn Loring and Merrifield. It provides emergency financial assistance and food, plus clothes, furniture, transportation and the Meals on Wheels program.
"When many of us in this area think of hunger, we think of other countries or, at least, other areas of the United States," said Vienna Councilwoman Linda Colbert. "But we have hungry people and families in our community. There are children here who go without two meals a day and adults who rely on Meals on Wheels for food."
Betty Rahal of Vienna Presbyterian Church (VPC) started the walk, a decade ago, and her church has organized it ever since. After the 2004 tsunami in Indonesia, Rahal asked Church World Service how she could help and was told that CROP Walks are a major source of its fundraising.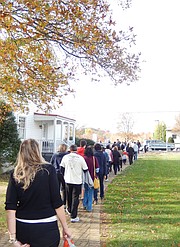 "I called them in January and we had our first CROP Walk in November 2005," she said. "I'm committed to this because the work Church World Service and CHO do is so helpful and so important."
About 150 people participated in Vienna's walk, and Rahal couldn't have been happier. "This was a good turnout today," she said. "I'm always thrilled with this walk." (As of Sunday night, it had raised $30,500, but more pledges were still coming in).
Town residents, including members of six local churches – VPC, Holy Cross Episcopal, Epiphany United Methodist, Emmaus United Church of Christ, Emmanuel Lutheran and Lewinsville Presbyterian – gathered on the Vienna Town Green before the event to register and snack on refreshments donated by Cenan's Bakery and De Paul Urban Farm.
They also chatted with their friends and neighbors, listened to VPC's Youth Praise Band perform and got raffle tickets for prizes and gift certificates donated by local merchants. And a contingent of eighth-graders from Thoreau Middle School manned the water station and later gave out door prizes while obtaining service hours for civics class.
Student Lianna Williams said the event was important because "it's helping the town of Vienna." Classmate Hannah Rupy said everyone's efforts "can help stop hunger," and her twin brother Noah said they were all having "fun while helping people."
Before the participants departed for their 3-mile walk, which started and ended on the green, Rahal addressed the crowd. She thanked the volunteers, sponsors and community businesses and explained how CROP walks help people all over the world. She also told how CHO helps locally by providing food to children "whose only meal of the day may be their school lunch" and to adults who, likewise, might not eat if not for Meals on Wheels.
She then introduced Colbert, who said Vienna's event was one of 26 CROP Walks happening in Virginia. Colbert also expressed how proud she was of the community, Vienna Presbyterian and Rahal for "committing to fighting hunger."
Jennifer Chamberlain of Emmaus UCC has done this walk for years with about a dozen people. "Our church has a whole weekend of hunger-fighting events – we call it Mission Possible," she said. "We gather food for local food pantries and do this walk. And [on Nov. 8], we packed 10,000 meals for Stop Hunger Now."
Vienna's Laurie Forbes participated "because I love the cause and it's a beautiful day. And all ages can take part." VPC's Barbara Holmes was pleased that "a lot of the funds raised go back to the community. We've been involved in this a number of years and have had many CROP Walks with the Sunday School class."
"As the holidays approach, people take for granted all they have," added VPC's Catherine Straley. "But this is a way to get nutritional meals on the table so others will be blessed, this holiday season."
Susan Kenney, also of VPC, is a co-founder of Vienna's walk, along with Rahal. "This walk went well, and we always have high amounts raised per walker," said Kenney. "And we're always looking for more churches and people to participate."
Last year, she said, "We raised almost $34,000 with only 200 walkers. It's just a great cause, and it's nice to see the same families and churches come out, year after year. My oldest son, Patrick, was 4 when he first started participating. He's now 13 and in eighth grade at Thoreau, and he's still doing it."