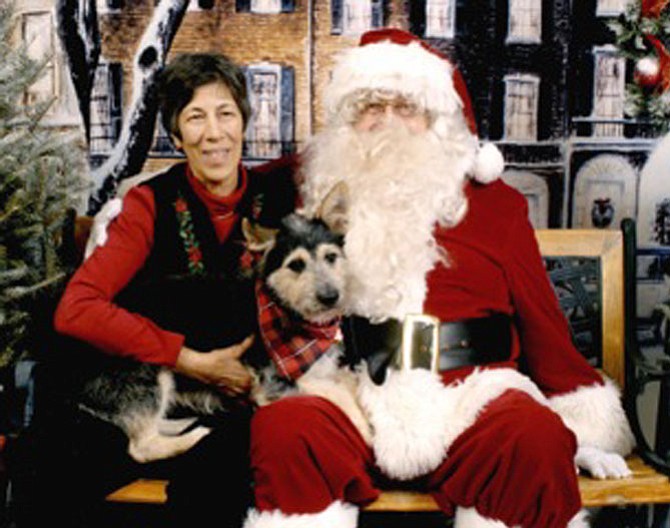 Come early December, a few well-chosen volunteers at the Animal Welfare League of Alexandria (AWLA) will put on a fake beard, hat and a bright red suit and head over to the Olde Towne School for Dogs in Old Town Alexandria to take a shift as Santa for some of the area's most treasured pets.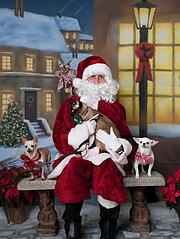 For 22 years, the dog school and pet-supply store has hosted professional photography sessions with Santa to benefit the AWLA, which operates the Vola Lawson Animal Shelter. Pet owners line up with their companion dogs, cats, rabbits, birds and even snakes to capture a shot of their loved ones perched on Santa's knee — as many as 300 animals each year.
"We move a pet through the process every five minutes for two and a half days," said Carlos Mejias, owner of the Olde Towne School for Dogs. Timed with Alexandria's annual Scottish Walk parade, people come from all over the region, pets in tow. The animals, especially the dogs, don Christmas bows, hats, jackets, antlers or blue Hanukkah scarves as their owners entertain visions of them on their holiday cards or computer screen savers. "Most of the animals are cooperative," said Mejias, who is in charge of posing them after they land on Santa's lap. "It gets a little crazy when we try to get two or three dogs to look cute at the same instant. And it's pretty impossible to get an expression out of a rabbit."
Patience is the most important quality in a volunteer Santa, Mejias said. "The costume is really warm," he said, "and you can have animals biting you or urinating on you and trying to jump out of your arms."
One Santa who had patience in abundance was Joel Robert Cannon. Cannon, who died in 2012, served as a volunteer Santa for many years and never seemed to tire of it, even as emphysema robbed him of his breath.
"Joel was always very jolly. We sometimes had difficulty pulling animals away from him," Mejias said. "He'd be cuddling a dog and just didn't want to let go."
Note: This year's photo sessions will be Dec. 5, 6 and 7 at the Olde Towne School for Dogs, 529 Oronoco Street. Call 703-836-7643 to schedule an appointment. All proceeds benefit the AWLA.