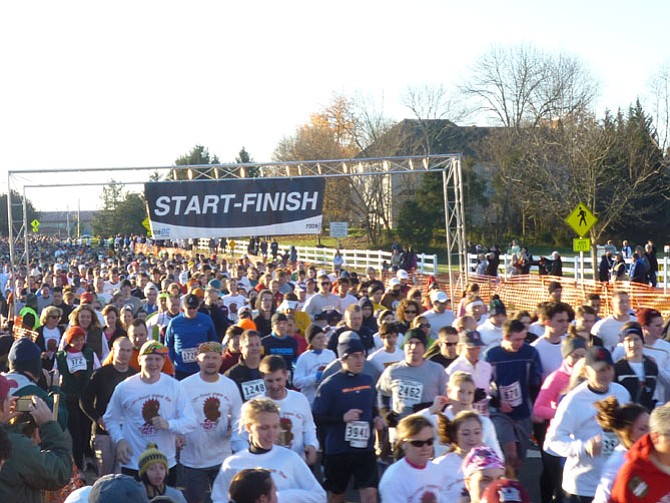 A great way to burn calories before Thanksgiving dinner is to participate in the Virginia Run Turkey Trot. This year's 26th annual 5K race and 2K fun walk will be held Thursday morning, Nov. 27.
"Things are running smoothly and we're well on our way," said Steve Logan, the new Turkey Trot co-chair along with Janet Day. "It's a great event that brings the entire community together."
The event also raises funds for Life with Cancer, Inova Health System's nonprofit program for cancer patients and their families. And so far, it's contributed more than $1 million. Last year, 5,000 people total participated in Turkey Trot, raising $94,000.
Both the run and walk begin at 8 a.m., starting and ending at the Virginia Run Community Center, 15355 Wetherburn Court, off Route 29 and Pleasant Valley Road in Centreville. The 5K race is USATF-certified and the course travels through the Virginia Run community.
Registration in the 5K is limited to the first 4,000 entries; the walk has unlimited entries. Register online at http://varunturkeytrot.wix.com/2014. Entry fees are 5K, $35; walk, $15; participants receive a cotton, short-sleeved T-shirt (entrants must pick up their shirts in person), plus post-race snacks and raffle tickets.
The commemorative T-shirts are custom-designed by Centreville artist and comic-book illustrator Rich Seetoo. This year's shirt features a turkey crossing the finish line with the Virginia Run Community Center in the background.
Prizes are awarded to the three fastest males and females overall and in the Virginia Run residents' category. The top three runners in various age categories also receive prizes. Runners are electronically timed and results posted on www.DCTiming.com. Results may also be obtained almost immediately at a tent in the Community Center parking lot.
The event takes place, rain, shine or snow, and parking's available at Centreville Baptist Church, Centreville Presbyterian Church, Bull Run Elementary and Korean Central Presbyterian Church (KCPC), all off Route 29.
The main sponsors are Eridani Crops, Mitchell Eye Institute, Cox Farms, Korean Central Presbyterian Church, Virginia Cancer Specialists, Edelman Financial Services, American Windows and Siding, and Glory Days Grill.
Race preparations have been underway by a 20-person committee since February and 150 people will help out on the big day. For example, Howard Sevel is the announcer and heads up the raffle, Dean Jones is in charge of traffic control and Michelle Enright handles crowd control, helps with traffic and coordinates the walk.
But volunteers are still needed for race day, starting at 6 a.m., with set-up. To lend a hand, contact Helaine Newman at helainesells@gmail.com or just show up.
Logan hopes this year's Turkey Trot will be as successful as always because "Life with Cancer is a terrific and free program and does so much to help people. It's definitely a worthy cause. Having had cancer, myself — I've been in remission for seven years — I feel the Life with Cancer program offers wonderful services for both the patients and their families."
As for Turkey Trot, he said, "The community looks forward to this race every Thanksgiving. People have been doing it for years, and it's part of their routine now."
To see a video of Turkey Trot and Life with Cancer's history, go to https://www.youtube.com/watch?v=jqZDSMR1Lw0&feature=em-cshare_video_user.