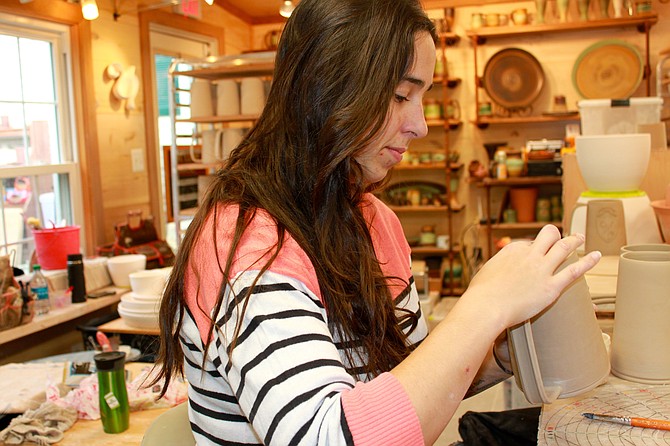 Although Potter's Fire is barely a year old, they are already veterans of the holiday season.
The potters and glazers in the shop are busy creating holiday dinnerware and their popular mugs for gift givers who love to buy local.
"We have two new lines of dinnerware that will be unveiled this weekend," said Chief Potter Michael Faul last week.
The designs for the dinnerware has changed a few times, but they feature a deep swirl in the middle. One line is plain white while the other is glazed in a style he called "heirloom."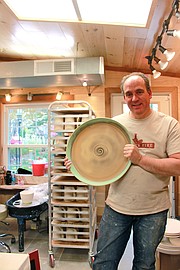 "We're also doing a christmas set that will be all hand engraved with words like 'believe' and 'rejoice,' and a smaller set with all the titles of Jesus Christ like King of Kings, Lord of Lords," he said.
Clay Boss Olivia Di Besigno was placing some of those Christmas sets in the kiln on Thursday, Nov. 13.
"Right now, we're just trying to get stuff ready for the show this weekend," she said.
Also new to the season are clay luminaries, vase shaped vessels with holes in it that can be stuffed with Christmas lights or filled with a pillar candle. The light shines through, creating patterns on the wall.
"We have them in large, medium and small, and they are designed to work as a sculptural arrangement," he said.
In addition to the holiday items currently being created, the studio will be converted into a holiday workshop on Dec. 19, 20, 22 and 23.
"We're going to have carolers out front and snacks for the kids," he said.
There will be two kiln unloadings on the 20th, and the last day to buy in store until Jan. 5 is the 23rd.
"The whole day is going to become pure retail," he said.
In addition to the new, special holiday items, the potters are busy making plates, large serving bowls, and what Faul calls "baby me and make me feel better" mugs. He said many people seem to buy them when they are sick and that they are a perfect vessel for those who like large cups of tea.
Hand builder Kacey Boyce was finishing a batch of tankards with Marta Campbell. She has been working with the shop since the summer.
"It took me a really long time to finish my fine arts degree, and I just graduated in May," she said. "I was able to get an art job right out of art school."
Only 10 to 15 percent of all sales come from walk-ins. Most of the shop's sales are generated via social media and the online shop.
"We shipped to guys out in Afghanistan," Faul said. "We shipped out to California, to Portland."
He said they have shipped their goods out to Seattle as recently as this month.
Regular shipping online for the holidays can be done up to Dec. 17 and expedited shipping can be ordered as late as the Dec. 24.
Studio hours are Tuesday to Thursday from 10 a.m. to 6 p.m. and Saturday from 10 a.m. to 5:30 p.m. More information can be found on their website http://www.pottersfire.com or their Facebook page https://www.facebook.com/pottersfire.