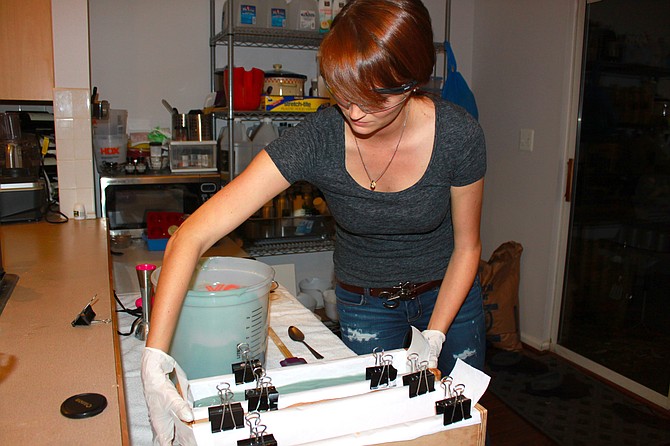 All of Janette Lew's and Brooke Goad's best ideas start with wine.
The two created The Soap Engineers, a local company that features high quality bath and body products, after the two chatted over happy hour about their mutual love for making handmade bath salts and fizzies.
"Brooke and I are engineers by day and soap makers by night," said Lew, Fairfax.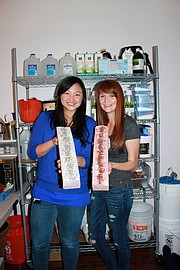 The company has not even turned a year old yet and the products are still being created in their homes - in Reston and Fairfax - but the two have already created an extensive line of moisturizing soaps, body scrubs, bath truffles, shaving soap and aromatherapy essential oils.
Their first market was at Bethel United Methodist in Woodbridge, but their products are found frequently at their Lake Anne Farmers Market booth on Sundays. They also recently signed on to have their products sold at Lake Anne Florist and The Crow's Nest in Oakland, Md.
"I never thought I would sell any of the stuff I made," said Brooke, Reston. "It's a great way to get together with friends and have a good time."
Brooke's husband, Andrew, has been a part of the business as well since the beginning. He helps to order material, transport their goods and get the word out about the business. Brooke joked that he also loved to test out the products.
"I think what we hope to do is provide an experience," he said. "We hope to connect with our customers."
Although the business has not been through a winter holiday season, they are currently gearing up based on their Mother's Day sales in May. Since each loaf of soap - before cut into bars - takes about a month to cure, creating their most popular products take advance planning. In Lew's home in Fairfax last week, Brooke made two loaves of Tropical Retreat, a spa-like calming blue soap packed with moisturizing oils and sprinkled with a little glitter pigment on top to make the soap resemble ocean waves.
Meanwhile, Lew made a batch of Green Tea and White Pear sugar scrub in a similar calming blue hue. Also in the range of scrub scents are Sweet Poppy, Coffee Cake and Spice and Citrus Heaven. The scrub acts as both an exfoliant and moisturizer. By the time it is washed off, hands are both smooth and soft.
"I use our sugar scrubs all the time in the shower," said Brooke.
She said that the manliest of men have tried it with rave reviews - to everyone's surprised.
"Most people who have tried it end up buying it," said Andrew.
Like the handmade bath and and body store Lush, they sell their own bath bombs, but theirs comes with a ball of moisturizers inside. For those familiar with Lush, Lew and Brooke describe it as a combination of the bath bomb - which fizzes in the bath - and a bath melt - which moisturizes the skin.
"You can even cut it in half if you have a normal sized tub," said Brooke.
Custom baskets are also available for request.
More information about their products and the company can be found at https://www.facebook.com/TheSoapEngineers.
Those who want to buy the products online can go to https://www.etsy.com/shop/TheSoapEngineers.