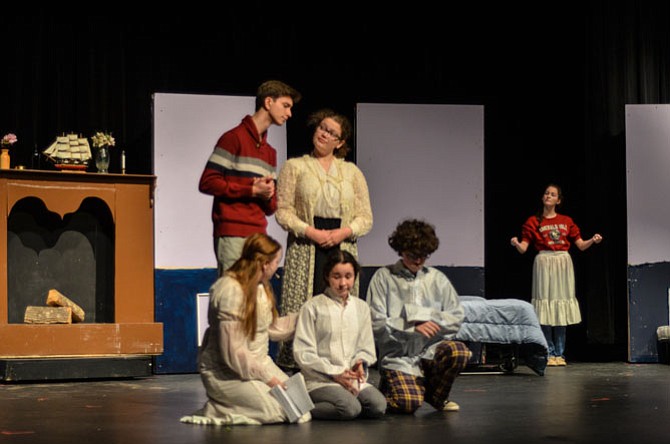 The family favorite tale of a boy who can fly will be preformed onstage by Herndon High School students on Dec. 4 to Dec. 6. Written by Scottish novelist and playwright J. M. Barrie, Peter Pan spends his never-ending childhood adventuring on the island of Neverland. This student lead production will utilize flying rigs for the first time in a Herndon High School (HHS) theatre production.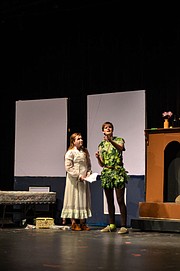 The play is a version developed by John Caird and Trevor Nunn. "I am really excited," said Herndon High senior Claire Smallwood who will be stage manager for this production. Previously, Herndon High has produced musicals at the end of autumn, so the school musical will be produced later in 2015. Lighting designer HHS junior Faiyez Hashemi discussed some of the lighting features that will be used in the production. "We will have a spotlight to follow persons and also use a glass gobos," said Hashemi.
This student led production will be an entry for Cappies program. The Cappies, "Critics and Awards Program," is a program in which high school theatre and journalism students are trained as critics, attend school shows and publish those reviews in newspapers. The Cappies became a showcase for local theater and journalism talent, with over 50 schools around Washington, DC the largest Cappies region. Since 2002, it has operated nationwide, with new regional groups appearing yearly. At the end of the year, the student critics vote for awards that are presented at a formal Cappies Gala.
The production will use four flying rigs, which were rented by the school. Using one of the rigs will be HHS junior Nathan Burns who has the role of Peter Pan. "I love the role of Peter, he is so youthful and angelic," said Burns. "I always liked Peter Pan and he has so much energy, and the flying rigs are amazing! When I first got rigged up, I was a little nervous, but then I saw this is great!" A small team of students and an adult have been trained to operate the flying rigs.
Playing the role of both Mr. George Darling and Captain Hook is junior Moritz Barth, an exchange student from Dessau, Germany. "I am really glad I got this opportunity," said Barth. Barth sees both Mr. Darling and Captain Hook as two oppressive figures, one in the real world and another in a fantasy land. "Hook symbolizes the father, Mr. Darling, so he has to make people fear him, yet is also cultivated. The ability to change between a brutal pirate and a gentleman is very interesting," said Barth.
The two-hour family-friendly play is a collaboration of local artists and students. Professional puppeteer Julia Tasheva is providing a puppet dog for the character Nana. Supervising the student led production is Herndon HS Theatre Director, Ms. Zoë Dillard. "We are all excited Ms. Dillard hiring the Flying By Foy company to install the flying rigs," said Karen Harrison, a parent and volunteer coordinator with the Herndon Drama Boosters. "All three of my kids have gone through drama class at Herndon High," said Harrison.
Herndon seniors Madison Hummel and Bonnie Sasseen are directing this production, which is expected to draw large audiences for all three performances. "From beginning to end, directing this show has truly been one of the most magical experiences," said Bonnie Sasseen. "Watching all the little pieces of this huge undertaking fit together makes all the hard work of producing Peter Pan worth it." Tickets are $10 at the HHS auditorium door one hour prior to performance or online at www.herndondrama.org. "Peter Pan" will be produced at Herndon High on Dec. 4 and 5, at 7:30 p.m. and Dec. 6 at 2 p.m.
Other upcoming events at Herndon High School will be the Holiday Craft & Vendor Sale on Saturday, Dec. 13, from 8 a.m. – 12:30 p.m. Proceeds from this event will benefit Emerging Leaders of Tomorrow and Education for Employment, SkillsUSA student organizations.