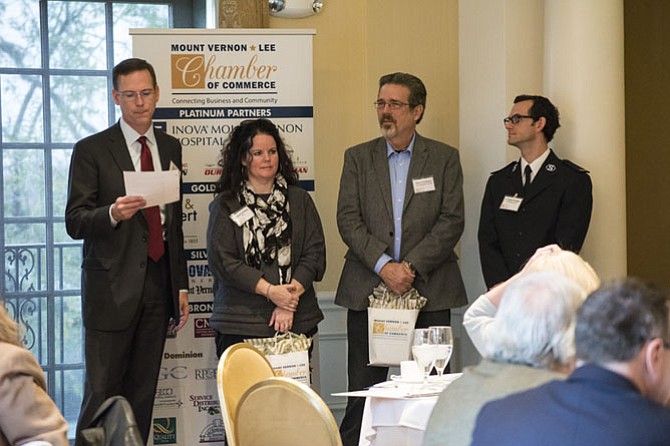 What would it be like to live in south Fairfax County and be out of work, lose your house, and not have hope for the future?
Three local organizations that work with the needy were the guest speakers at the November Business Breakfast of Mount Vernon Lee Chamber of Commerce and answered these questions while explaining how they help those in need.
The chamber heard from Lt. Nathan Bridges, commander of the Alexandria Citadel of The Salvation Army; Elizabeth McNally, deputy executive director of United Community Ministries; and Keary Kincannon, pastor of Rising Hope Mission Church. Chamber President Sean O'Connell, a partner with PBMares LLP a CPA firm, conducted the meeting.
Bridges spoke about the Angel Tree program which allows The Salvation Army to provide holiday gifts for needy children and the Red Kettle bell-ringers who are visible during the holiday season. He also explained the origins of The Salvation Army and how its purpose is to meet human needs wherever those needs might be found as they believe Jesus Christ would serve.
McNally is a 16-year veteran of United Community Ministries and has served as deputy executive director since 2006. McNally put a face on the many programs UCM offers by sharing stories of individual clients served by UCM. From a five-year-old child in the early learning center to adults who better themselves through the housing assistance program, UCM serves individuals in need.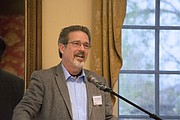 Kincannon spoke of his mission to serve the homeless at Rising Hope by describing one woman who came to the church homeless and in great need. She was given help and a job at the church and over time assumed greater and greater work responsibilities until she had developed skills to become self-sustaining. Rising Hope also helps with Fairfax County's hypothermia program in the winter.
Commander Patty Veld of the American Legion Post 162 in Lorton gave a Veterans Day greeting to the attendees and the chamber recognized all veterans present.