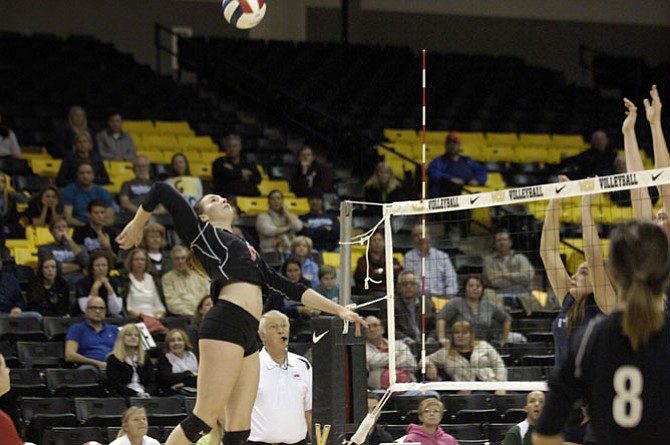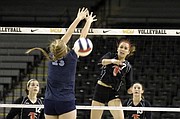 Four Madison volleyball players and head coach Carrie Hall sat in the media room at VCU's Siegel Center and answered questions following the VHSL 6A state championship match.
Junior outside hitter Natale Zanellato described the challenge presented by Friday's opponent, First Colonial of Virginia Beach.
Senior outside hitter Marissa Roy talked about the Warhawks overcoming a slow start.
Junior outside hitter Jayne Carter admitted she was emotional.
Senior libero Virginia Moore said the result of Friday's match wouldn't sink in until she was ready to head back to Vienna.
"This whole season has felt unreal, so the end of it kind of feels unreal, too," said Moore, a first-team all-region selection. "I think when I sit down on the bus, it's going to hit me. I might not be happy, but … I'm proud of this whole season. … We did accomplish something that's never been done before that no one can take away from us."
The Madison volleyball team, making its first state final appearance in program history, had seven chances to put the perfect ending on its historic season of domination.
Seven times the Warhawks had a match-point serve against First Colonial.
SEVEN TIMES Madison had the opportunity to finish the 2014 campaign undefeated and walk away with a state championship.
But every time the Warhawks were on the cusp of closing out First Colonial, the Patriots found a way to answer. And after the teams had exchanged clutch play after clutch play, First Colonial outside hitter Catie Espinoza ended the epic five-set match with her 17th kill.
First Colonial captured its third state title in program history with a 3-2 (25-17, 12-25, 18-25, 25-23, 25-23) victory over Madison on Nov. 21 in Richmond. The Patriots overcame a late deficit to win the fourth set before saving seven match points in the fifth to take home the title.
"It was [a] good [match]," Hall said, "we just came out on the wrong side of it."
Madison entered the state final having lost only five sets all season. The Warhawks had swept 12 consecutive opponents and hadn't dropped a set since beating Langley in four on Oct. 16. Madison finished the season with a 33-1 record, a Conference 6 championship and a 6A North region title.
"It's incredible," Hall said about the Warhawks' accomplishments in 2014. "I'm in the state final for goodness sake. I think we all would say that. I know it's not what we wanted now, but when they were freshmen, did you (Madison players) think we would get to the state final when you're seniors? .... This is a great accomplishment. We've done so much for the school and the community. They were all behind us on this one. We had so much electricity in the air all week long in our school.

"I think it was great what we accomplished."
Madison trailed 14-12 in the fifth set of Friday's state final, but a kill by Zanellato, a First Colonial error and a kill block from Carter gave the Warhawks their first of seven match points at 15-14. Carter produced three more pressure-packed kills, including one that gave Madison its final match point at 23-22, but First Colonial responded with three consecutive points for the victory.
"At that point," said Roy, the 6A North region Player of the Year, "it's really just whatever is supposed to happen, whichever team is supposed to win this epic [match] does, because it's so back and forth."
Undefeated and rarely tested during the season, Madison received a quick reality check as First Colonial won the opening set, 25-17.
"It was a really good wake-up call," Roy said. "We hadn't been challenged much at all. … We weren't used to the atmosphere, so we were adjusting."
THE WARHAWKS, however, were unfazed, winning the second set, 25-12, and the third set, 25-18.
Madison led 21-20 in the fourth set, but First Colonial battled back to win, 25-23, forcing a fifth set.
Zanellato and Carter carried the load offensively for Madison. Zanellato finished with a match-high 28 kills, and Carter tallied 17. The duo combined for 12 kills in the fifth set.
Madison's Emily Davine finished with nine kills, and Emily Calhoun and Roy each had seven.
Junior setter Kendal Hall totaled 63 assists and 16 digs. Senior libero Moore tallied a team-high 26 digs, Roy finished with 19 and Carter had 15.
Rowan Ennis led the Frist Colonial with 19 kills.
The Warhawks will graduate five players, including Roy, the region Player of the Year, and Moore, a first-team all-region selection at libero.