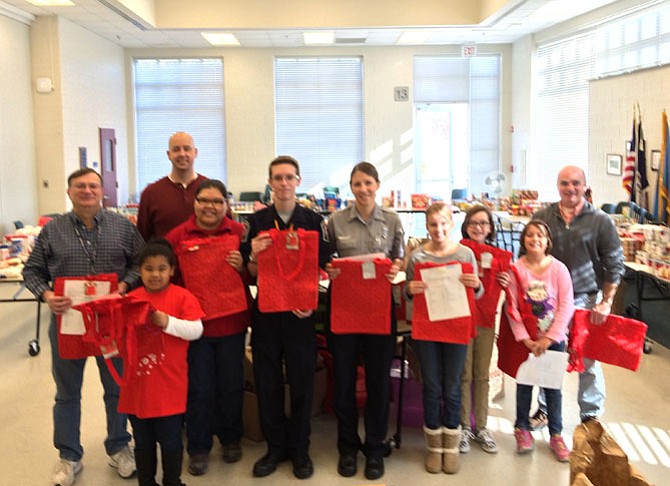 For many local families, the holidays are a time of hunger. So the Sully District Police Station, Westfields Business Owners Association and Western Fairfax Christian Ministries (WFCM) teamed up to help feed them. And with donations of non-perishable food items from the community, they collected more than 2,500 pounds of food.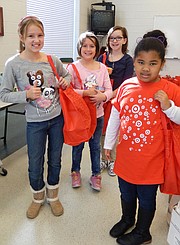 Then on Saturday, Nov. 15, volunteers gathered at the Sully District Police Station to pack up bright-red bags full of food to give to 40 families in need. Also participating was Target, which donated the food bags, as well as canned goods.
The packaging turned out to be a family affair. The workers included station commander Capt. Ed O'Carroll and his daughter Sarah, assistant station commander Capt. Bob Blakley and his daughters, Kara and Kasey, plus station Crime Prevention Officer Tara Gerhard. Also pitching in were Chantilly Target employee Iris Calvo and her daughter, Kiyah.
"This is awesome," said O'Carroll. "The donations have been overwhelming."
"Justice Federal Credit Union in Westfields was a big contributor," said Gerhard. "And members of the Sully Station I Homeowners Assn. brought 400 pounds of food."
In addition, she said, "The squads at this station also did food drives. They had a competition to see which one could bring in the most food, and the Evening A Shift won with 663 pounds of food. For their prize, Chick-fil-A of Chantilly donated a catered lunch to the winning group."
But everyone's real reward was knowing that the food was going to people who really need it. Police officers planned to deliver it, Nov. 22-25, to families in need throughout Centreville, Chantilly, Clifton and Fairfax Station. They're either WFCM clients or local crime victims.
All in all, said Gerhard, "It was a lot of fun; we had a good time."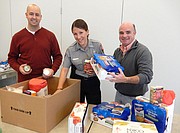 "It's a humbling opportunity for our officers to be involved in," added O'Carroll. "And it gives us the opportunity to help out others in need."