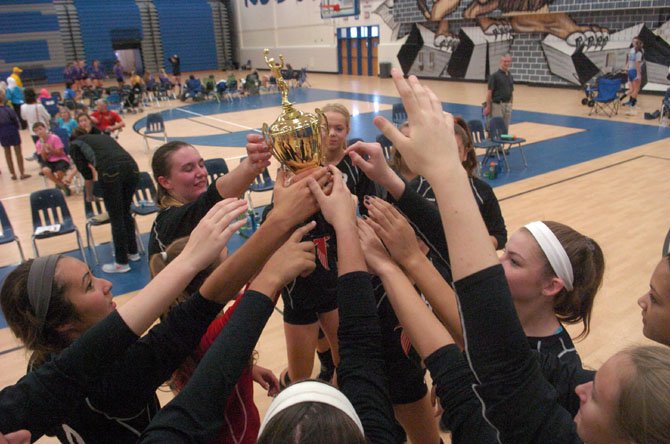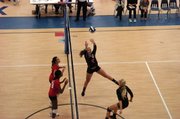 The Madison volleyball team started the 2013 season with 21 consecutive victories before falling to eventual state champion Langley. The Warhawks lost again five days later, dropping a five-set match to Washington-Lee.
This season, Madison is off to another undefeated start --- and last year's back-to-back losses are a reminder that the streak could end at any time. Saturday, however, was not that time.
The Warhawks improved to 15-0 on Sept. 20 and won the 2014 Rebel Volleyball Invitational at Fairfax High School. Madison swept through Islamic Saudi Academy, Lake Braddock and South Lakes in pool play before defeating Fairfax and Patriot to win the gold bracket championship.
"Overall, I thought it was a really great day for us," Madison head coach Carrie Hall said. "We ran a lot of different people all day until the last game here and they all did well."
Senior setter Chandler Rouse and junior setter Kendal Hall each made the all-tournament team for Madison.
The Warhawks have breezed through the competition this season, sweeping all but two of their first 15 opponents. Madison needed five sets to beat Chantilly in the season opener on Aug. 27 and defeated Fairfax 2-1 in Saturday's gold bracket semifinals.
"[M]y girls are very wary of every team," Coach Hall said. "… The girls are working hard every day because we know what can happen."
The Warhawks fell one victory shy of the state tournament each of the last two seasons and have their sights set on clearing that hurdle.
"[Seniors Marissa Roy and Virginia Moore have] been on varsity all fours years and for the last two years we've lost in the region semifinals," Hall said, "so if you were to ask them, I'm sure they would love to win that game. I think that's probably where we're at."
Junior outside hitters Jayne Carter and Natale Zanellato, setter Hall, libero Moore and outside hitter Roy have been some of Madison's top players this season.
The Warhawks will travel to face Stone Bridge at 7:15 p.m. on Monday, Sept. 29.
"I'm happy that we're on our [undefeated] streak," said Zanellato, who transferred to Madison from Lake Braddock, "and I think we're just playing the way we want to play and … it's working."
The rest of the all-tournament team included: Savannah Powers (Fairfax), Taris Pittman (Fairfax), Rachel Abelson (South Lakes), Melody Caloyannides (South Lakes), Tara Wulf (Lake Braddock), Rachel Tuck (Lake Braddock), Michelle Laker (Yorktown), Catherine Vaccaro (Yorktown), Lubna Mostafa (ISA), Hoda Mahmoud (ISA), Kalia Batistas (Patriot), and Alexa Gore (Patriot).
More like this story