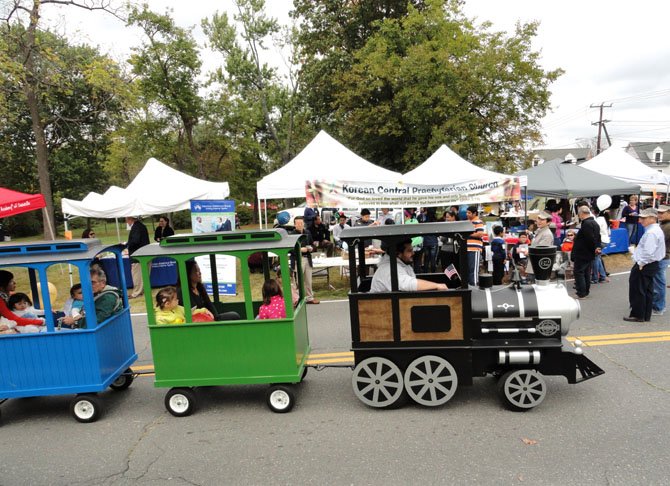 Centreville — Featuring everything from a charity 5K to a parade, music, history tours, a costume contest for pets and a swordsman, the upcoming Centreville Day celebration promises something for everyone.
The 22nd annual event is slated for Saturday, Oct. 11, from 10 a.m.-5 p.m., in Historic Centreville Park, 5714 Mount Gilead Road (off Braddock Road, across Route 29 from the IHOP).
"Centreville Day is always about the community celebrating what we have," said event Chairman Cheryl Repetti. "It's an opportunity to meet the businesses, churches and nonprofits that are part of our community. It's also a great way to meet your friends and neighbors and learn about the rich, vibrant and exciting history of Centreville – and the people attending Centreville Day will be part of it."


Zombie Slouch 5K
The day begins with the Third Annual Zombie Slouch 5K, at 9 a.m., outside St. John's Episcopal Church in the Centreville Historic District. This fun run benefits the DC Candlelighters Childhood Cancer Foundation which offers hope, support and solace for families with children battling cancer or who have been treated for it.
Runners, walkers and pets are encouraged to come in historical or Halloween costume, and strollers are welcome. Besides awards given to the fastest male, female and child under 12, prizes will be given for the most creative adult costume and most creative child costume.
Cost is $30, runners; $15, walkers and $60, families. For more information, contact Meg Crossett at dccandlelighters@gmail.com or call 202 747-7191. Register at www.dccandlelighters.org until Oct. 10 or on race day at 8 a.m.


Opening Ceremonies, Costumed Pets
Opening ceremonies are at 10 a.m. on the Centreville Stage in front of St. John's. Supervisor Michael R. Frey (R-Sully) will welcome people to Centreville Day and various awards will be presented, including Centreville Citizen of the Year and Business of the Year.
Next on that stage will be a pet costume show at 10:45 a.m. "Costumes, whether historic or Halloween in character suit Centreville Day, so why not suit up your pet in one and participate in the new Centreville Day Pet Costume Show?" asks Repetti. "Is your pet a pirate at heart? A superhero? Perhaps she's the belle of the South? Show off your pet's special character by signing up for this show. Be creative and have fun."
Well-behaved pets of all species are welcome to vie for prizes. There'll also be pet goodies from Centreville Animal Hospital, PetValu and Pet Supplies. Participants will also be eligible for a drawing for a wellness check-up basket from Caring Hands. This event is limited to just 30 entrants, so people are encouraged to register their pets for the costume show at www.CentrevilleVA.org.


Parade
People in costumes, pets, floats, Scouts, antique cars, performers and other creative entries are all welcome to join in the Centreville Day American Legion Parade. Registration is free via www.CentrevilleVA.org. The parade assembles at the end of Wharton Lane at 11:30 a.m. and passes by the reviewing stand outside St. John's around noon.
The parade travels through the heart of the Historic District along Mount Gilead and Braddock roads and disperse at Braddock Road. Prizes will be awarded. Anyone wanting to join the fun should contact Steve Hunter, American Legion Post 1995, at geoshunter@gmail.com.
The Chantilly High Air Force JROTC will be the parade's honor guard. Other participants include Centreville Volunteer Fire Station 17, Centreville Dance Academy, Westfield High theater students, the Chick-fil-A cow, SYA Wildcat Cheerleaders, Cub Scout Pack 2525 and local politicians.
"I encourage everyone to come out and march in the parade," said Repetti. "They can register in advance to have their names announced as they pass the reviewing stand, or just show up. We'd also like people to come and watch the parade and wave to the participants. It should be a lot of fun."
Braddock, Mount Gilead and Wharton Roads west of Pickwick Road will be closed that day from 8 a.m.-6 p.m. (Village of Mount Gilead residents will be able to enter and leave via Wharton Lane). There'll be additional, rolling road closures of Pickwick and Leland roads for the Zombie Slouch race in the morning and along Wharton Lane for the parade at 11:30 a.m.


Entertainment Schedule
The entertainment on the Centreville stage includes singing, dancing, cheering, theater improv and martial arts. The performers include the VADeatles, a group of Stone Middle School teachers singing Beatles' songs. And in between acts, deejay Myra Flemister will provide music.
11 a.m. - Westfield and Centreville High theater students relate Centreville's history
11:30 a.m. – VADeatles
Noon – American Legion Parade
12:30 p.m. – Parade awards
12:45 p.m. - Centreville Dance
1:15 p.m. - Centreville Cheer
1:45 p.m. - The Liabilities

2:15 p.m. - Westfield Improv Team
2:45 p.m. Harmony Road
3 p.m. - Stephon Morton's Kung Fu
3:30 p.m. - St John's Choir, in the church
4 p.m. - Outliers Rock Band
Food
A food court features local restaurants and festival fare, including
Mrs. P's Concessions (funnel cakes, hot dogs, hamburgers and barbecue); Chick-fil-A (chicken sandwiches); Noodles & Co. (various pasta dishes); Coyote Grill (street tacos); and Nitro's Creamery (ice cream made on the spot). In addition, Korean Central Presbyterian Church (KCPC) will offer popcorn.


Children's Activities
Gold Sponsor G & C Tire & Auto is again providing wristbands for free children's rides. The fun includes a climbing wall for older children and a large, inflatable "Cars" slide for younger ones. And they can enjoy the trackless train for free, this year, courtesy of Kiddie Academy.
Attendees are encouraged to don Halloween costumes and follow the Trick or Treat Trail through the Historic District and marketplace. Apple Federal Credit Union will provide bags for the trick-or-treaters.
Miss Charlotte and other women of Alpha Delta Kappa will return to the children's area with their Faces of Centreville contest, as well as old-fashioned activities such as tug of war and sack races. Various vendors and churches will also host games.


Shopping, Crafts
The community marketplace will offer items from crafters, businesses, churches and other organizations. Handmade crafts include jewelry by Brenap Jewelry, children's clothes and fabric art by Lee Ann Designs, beer lassos for beer and wine bottles, games from Island Games, and Jamberry nail wraps and polish. Residents may also peruse the tables of various businesses and nonprofits and learn what they have to offer.


Mini Health Fair
In honor of Binational Health week in the U.S. and Canada, new this year will be a mini health fair providing:
Free flu shots by Walgreen's
Blood pressure checks
Blood glucose tests (diabetes)
Vision screenings and clinic referrals
It'll be in front of St. John's and people may also meet local health-care providers there. There'll also be sleep clinics, speech therapists, fitness centers, chiropractors and dentists located throughout the marketplace. Look for the Health Fair canopy in the center of events providing directions to these services.


Historical Activities
Centreville Day attendees may ride on the Fairfax County Park Authority's mini history train and discover the treasures of Centreville's Historic District. The guided ride will travel between "stations" at Mount Gilead, the Old Stone Church and the Stuart-Mosby Museum.
A van tour of Civil War Centreville for ages 12 and up will start from Ellanor C. Lawrence Park at 1 p.m. It features the Stuart-Mosby Museum, Mount Gilead and Centreville's Civil War fortifications. Register for the van tour at www.fairfaxcounty.gov/parks/ecl.
For those preferring a walking tour, Ghost Tours at 2 and 4 p.m. will meet at the Spindle Sears House at 5714 Mount Gilead Road. These not-so-scary tours examine the stories of ghosts, murder and lost love. Check the Centreville Day website or stop by the information booth for further details.
On the Mount Gilead lawn, Sully Historic Site volunteers will lead hands-on activities such as candle-dipping, cornhusk-doll making and playing 19th-century games.
On Braddock Road, the Old Stone Church and the Stuart-Mosby Cavalry Museum will be open for tours. Enjoy a Ploughman's lunch or purchase baked treats at the church, or chat informally with the knowledgeable docents at the museum.
"History is always an important part of Centreville Day," said Repetti. "The event benefits the Friends of Historic Centreville, the nonprofit that organizes Centreville Day in partnership with the Park Authority to encourage residents to discover this area's rich history."


More Entertainment
On the lawn of the historic Mount Gilead house, living history first-person interpreter Beverly Pelcher will reprise her portrayal of Cornelia Peake MacDonald and present a woman's view of the Civil War. And the "Doctor of Pneumatics," Dean Howarth, a McLean High science teacher, will teach people about science via history.
Also on hand will be Civil War reenactors from the 17th Virginia, Fairfax Rifles. The Swordmaster of the 18th Century, Charlie Anderson, will display his cannon and offer fencing lessons, and James Andrews will portray a pirate.


Parking, Volunteering
Admission to Centreville Day is free, and free remote parking will be at the Trinity Centre, 5860 Trinity Parkway. Shuttle buses provided by Centreville Baptist Church will take people to and from the festivities in the Historic District.
This event is organized by the Friends of Historic Centreville in partnership with the Fairfax County Park Authority and the Centreville Day Planning Committee. It helps raise money for historic preservation and Historic Centreville Park. More information is at www.centrevilleva.org.
Students and Scouts may obtain service hours by volunteering at Centreville Day. Sign up at www.CentrevilleVA.org and click on the green button for a variety of jobs on the day of the event. Or contact volunteer coordinator Karen Waltman at volunteer@centrevilleva.org.
"If you enjoy giving your time and talent to support your community, there are lots of opportunities to help with Centreville Day, from participating on the planning committee to helping to pick up trash at the end of the day," said Repetti. "All jobs are important and help to create a great, community event."