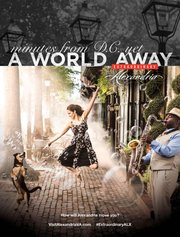 Alexandria — The Alexandria Convention and Tourism Association unveiled the latest addition to its "Extraordinary Alexandria" tourism campaign during its annual meeting where officials also released the latest figures on visitor spending.
Held Sept. 29 at the Old Town Hilton, the ACVA touted an independent study showing a 171:1 return-on-investment for the "Extraordinary Alexandria" campaign, an increase from a 130:1 ROI found by a 2010 study of the prior campaign.
The new study, conducted by Destination Analysts, determined that for every dollar spent by the City of Alexandria on campaign advertising, $171 was generated in visitor spending at local businesses and $6 came back to the city in tax revenue, up from $4 in city tax revenue per ad dollar in 2010.
Launched in September 2013, the latest marketing campaign showcases various scenes from around the city and utilizes a media strategy focusing on digital and online television and a broader mix of traditional ads including print, outdoor billboards and D.C. Metrorail.
The campaign will also attempt to broaden the audience scope to include a younger demographic. Millennial and Gen X professionals ages 25 to 40 have been added as a second target audience to complement Alexandria's traditional audience of affluent adults ages 45 to 64.
According to 2013 visitor spending figures released by the Virginia Tourism Corporation, Alexandria's numbers held at $738 million, compared to a record high of $739 million in 2012. This translates into $24 million in tax revenue generated for the City of Alexandria.
According to the ACVA, visitor spending contributed $5,000 per resident in economic activity and reduced the average tax bill of every household by more than $300. More than 6,000 jobs are also supported by the city's tourism industry.
ACVA's latest ads feature the theme "Minutes from Washington, DC, yet a world away." The signature ad of the campaign's second year is an image of the King Street streetscape with a woman and her dog inspired to dance as a musician performs nearby.
Intended to evoke the "rejuvenated and carefree feeling a visitor experiences while in a city known for its authentic and uncontrived local character," the ad features Alexandria jazz musician Vaughn Ambrose and Cool Luke, beloved pet of the owner of the dog daycare business Your Dog's Best Friends.
The Annual Meeting was sponsored by Burke and Herbert Bank as part of a new marketing partnership with the ACVA.
For more information, visit www.visitalexandriava.com.