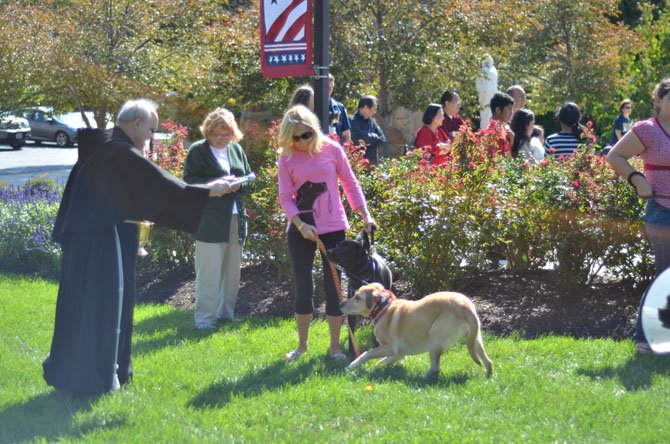 "We attend every year, it is a special event," said Herndon resident Mary Vrabel. Vrabel was with her two pet dogs, Shadow and Sasha, at St. Joseph's Church in Herndon for the annual pet blessing on Oct. 4. The custom is conducted in remembrance of St. Francis of Assisi's love for all creatures. Conducting the ceremony this year were church Vicars Alberto Bueno and Tom Bourque.
Approximately 50 parishioners from Herndon to Ashburn attended the outdoors blessing of the pets on the lawn of St. Joseph's Church. "We invite our parishioners to bring their pets to be blessed," said Bueno.
After a reading from the book of Genesis, both priests walked among the congregants to give blessing and sprinkle pets with holy water. Most pets received the sacramental spritz with dignity. "I love the fact that our dog is blessed by a priest," said Herndon resident Patty Roewer, who attended the event with her husband and her dog Juno. "It is an event that brings the community together."
"This is our fourth year attending," said Joanne Cornman who along with her husband, brought several pet cats. "It is a celebration of St. Francis and his love of all animals," said Vicar Tom Bourque. In addition to cats and dogs, some other pets included birds, hamsters, and few rabbits. St. Joseph Church is a Franciscan Friar staffed parish located at 750 Peachtree St., Herndon.
ST. TIMOTHY'S EPISCOPAL CHURCH in Herndon held an afternoon blessing of animals on Sunday, Oct. 5. Founded in 1868, St. Timothy's has hosted blessing of animals for decades. "We have been doing this for years," said Rev. Brad Rundlett, who owns a Labrador Retriever and is Rector at St. Timothy's. "It is kind of a social gathering."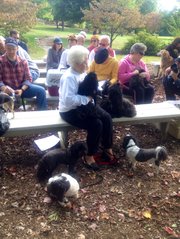 Thirty congregants attended the outdoor animal blessing on the grounds of St. Timothy's at 432 Van Buren St. The event began with a prayer, followed by a reading from the Book of Genesis and a blessing of each animal by Rundlett. "We have a zoo," joked Bunny Wilkins, a congregant who brought her six shih tzu dogs to the event. Wilkins has been a member of the St. Timothy's congregation for more than 40 years.
"We usually attend the blessing ceremony," said Kathy Dubishar, a resident of Herndon. In addition to their pet dog Reeses, the family brought their cat Blueberry Muffin. "He is about 18 years old and needs all the blessings he can get," said Dubishar.
St. Timothy's congregant Paige Williamson brought her pug dog Coco to the blessing event. "He likes going out, and it is a good outing for him," said Williamson. "Some people in my neighborhood are afraid of dogs, but when you get to know them they can be good companions. The only thing dangerous about Coco is his breath."
St. Francis is known as the patron saint of animals and the environment, and is one of the two patron saints of Italy. On March 13, 2013, upon his election as Pope, Cardinal Jorge Mario Bergoglio of Argentina chose Francis as his papal name in honor of Saint Francis of Assisi, becoming Pope Francis.