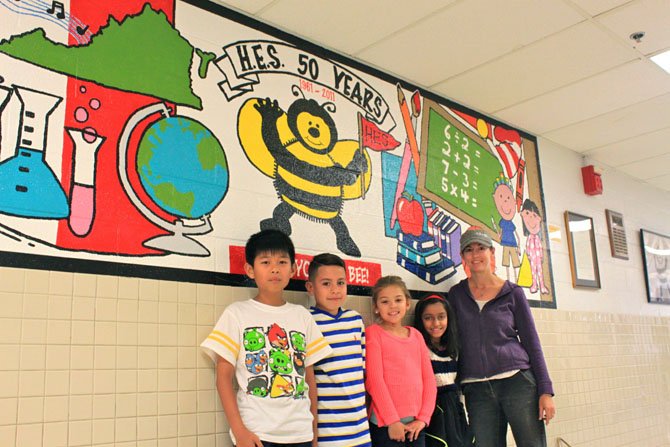 Herndon Elementary is leaning on local businesses so they can lean on parents less.
The school Parent Teacher Association started its new corporate sponsorship program at the beginning of the school year to help raise money for school needs that do not fit in the budget.
"We are a Title 1 school, which means more than 50 percent of our children are on the free lunch program," said PTA President Amanda Geary. "Our volunteer base has shrunk and fundraisers are challenging."
She said the program is the best way to relieve parents who may not be able to support PTA fundraisers monetarily.
"The silent auction is great, but not everyone can afford a $100 gift basket," she said.
This year, the PTA has gotten $1,050 in donations from local entities like the Town of Herndon, WhimPop, Mellow Mushroom, MOM's Organic Market, Waku Chicken and The Potter's Fire.
She said she was surprised who agreed to donate money when she made calls at the beginning of the year to companies of all sizes — from massive corporations to the smaller, local businesses.
"The people who have contributed are all from small, local businesses," said Geary. "I'm really surprised."
In return for their sponsorship, the company receives free marketing through the PTA.
"In exchange, we are posting about them on Facebook, offering them tables at school events, creating signs to thank them in the homecoming parade and around school and basically singing their praises wherever we go," she said.
Many of the companies that are donating money, however, are not doing it for the marketing.
"We love being part of Herndon community and appreciate the opportunity to give back," said Herndon and Washington D.C. Mellow Mushroom co-owner Pooja Mehta. "Education and school programming is important to me."
She said she spent five years as a nonprofit attorney at the D.C. organization, Children's Law Center, and also donates money to aid the awareness and research of health issues and homelessness in the area.
Mike Faul, the local studio owner and Chief Potter of The Potter's Fire, said he donated money for a simple reason, the school asked.
"We have the core value at The Potter's Fire to give back to the community," said Faul.
After talking to the PTA members about the needs of the students at the school — some whose needs were as basic as pencils and paper for school — Faul signed up for the program.
"We also donate merchandise," he said. "We have six big pieces we make every six months."
Some of those pieces are donated to local schools to use for silent auctions.
"It's a great thing to be able to give back to your community," he said.