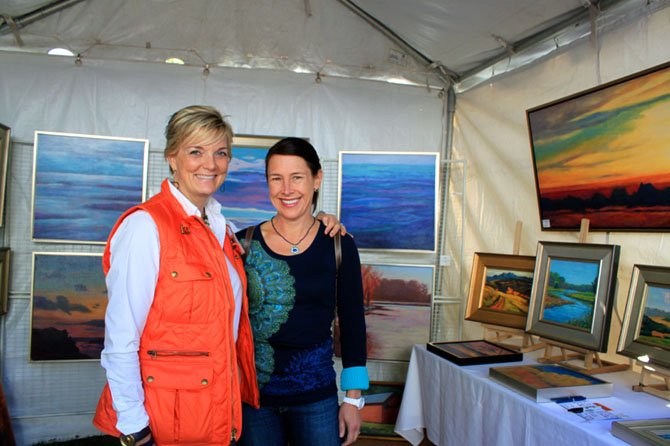 Artist Julie Lansaw has been showcasing her paintings depicting her travels on paint and canvas at McLean Project for the Arts ArtFest since its first year.
The local artist said it is the best way for neighbors to socialize and buy work in the area.
The eighth annual MPAArtFest attracted thousands of art and music lovers to McLean Central Park Sunday to enjoy the crisp autumn day with drawing lessons, local art and apple cider donuts.
"I live here in McLean, and it's a good way to see people I haven't seen all year," said Lansaw. "The reputation is helping to expand the draw."
She said the show pulls a wide net of people from outside of McLean — a number that grows every year. MPAArtFest director Amy Swaak said many of the local and nonresidential visitors come because of the quality of the festival. Not only can you buy artwork, she said, but children can also come for the "amazing festival feel." Between 5,000 to 6,000 people attend every year, with many of them coming more than once.
"I feel this has become a premier community event," she said.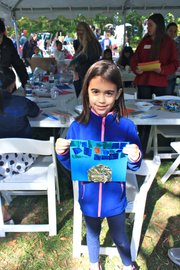 EVERY MEDIUM, from oil painters to jewelry makers, were represented at this year's festival. Additionally, children's artwork lined the sidewalk.
Visitors milled down the sidewalk to listen to music or have their children create arts and crafts. Those who have graduated from the arts and crafts age could draw live figures in an open-air sketch session, where a number of easels were set up with paper and drawing charcoal.
Shannon and John Durrant, of McLean, were relaxing by the gazebo where musicians played as their children drew figures at an open air station nearby.
"We've been coming here every year we've lived here," said Shannon. "We bring lunch, sit and listen to music and they create art."
Tim Gocke, of McLean, brought his daughter Gigi to the arts and crafts station so she can use her imagination and construction paper to create a picture.
"I'm a sponsor for one of the artists' tents," he said. "I'm an oral surgeon in town. I feel that promotion of the arts is important for society and children. We're just having some fun."
Those who were tired of walking around the 50 artists and number of other vendors could rest as their children played in the playground or grab an apple cider doughnut from Mama's Donut Bites as they headed back to their car.
"I think it was fabulous," said Swaak. "The weather couldn't be more perfect. The art represented here is wonderful. What else is there to say."