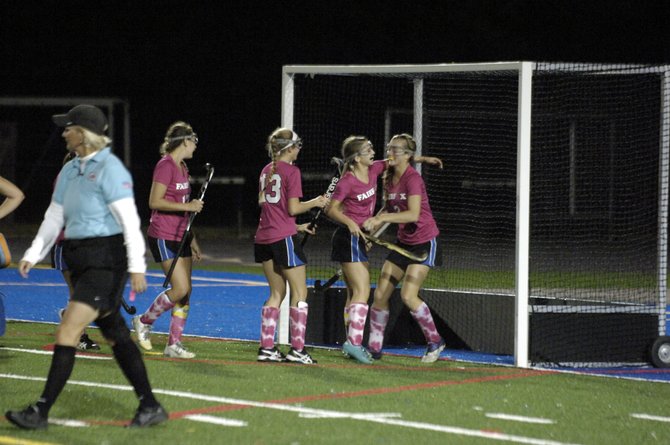 Maybe the joy of knocking off defending state champion Westfield was still in their heads. Maybe the pregame festivities of senior night were a distraction. Regardless, it took members of the Fairfax field hockey team awhile to get going during their Oct. 9 matchup with Madison.
With a chance to secure the No. 1 seed in the Conference 6 tournament, Fairfax head coach Amber Beaudoin had a message for her team late in the second half of a scoreless tie: Are you done messing around?
Sophomore forward Emily Deivert responded to her coach's challenge with a pair of goals in a span of two minutes, lifting the Rebels to a 2-0 victory over Madison at Fairfax High School.
Deivert entered the game with one goal in 2014. She scored her second of the season with 10:17 remaining in the second half when she received a nice pass from a teammate and deposited it in the cage. Nearly two minutes later, a Fairfax shot hit the right post and came to rest on the turf in front of an open cage. Deivert hustled over and put the ball in for an insurance goal.
"I saw the ball and I couldn't see the goalie in my view," Deivert said, "so I thought, open goal, I have to go for it."
On Oct. 14, Fairfax concluded the regular season with a 4-0 win over Thomas Jefferson, improving its record to 13-3.
The Rebels enter the postseason riding an eight-game winning streak, including a 1-0 home victory over Westfield on Oct. 6. Fairfax was the first Northern Virginia public school program to beat the Bulldogs since South County did it in Westfield's 2013 season opener. Senior forward Trisha Le scored Fairfax's goal with 11 minutes remaining.
It was Beaudoin's first victory against Westfield head coach Starr Karl, including last season's 6A North region championship game, when the Bulldogs won 2-1 in overtime. Beaudoin played for Karl at Fairfax High School.
Beaudoin said the victory over Westfield wasn't a confidence boost for the Rebels, who qualified for the state tournament last year, have made several deep playoff runs in recent seasons, and are part of a program that has won five consecutive Liberty District/Conference 6 championships.
"I think they've had that confidence all along because we have 10 seniors on this team," Beaudoin said. "I think it was more a [revenge] thing, last year losing to them in the region final 2-1 in overtime when we scored first. … I'm not going to lie, it feels good to beat Westfield because no other [Virginia] public school has [this year], but in the scheme of things, it really doesn't mean anything."
One of those 10 seniors said it's important the Rebels don't focus too much on their win over Westfield.
"Right now, we're all really pumped," Fairfax senior forward Charlotte Duke said following the Madison game, three days after the Rebels beat Westfield. "It's really exciting, of course, but I think we need to calm down and realize that it's not the end of our season and that doesn't mean we're going to go anywhere. That just means that we have the potential."
The Conference 6 tournament is scheduled to begin on Tuesday, Oct. 21.